Bear seen in Bay Area neighborhoods spotted in tree
CARROLLWOOD, Fla. - A bear that has been spotted several times in the Lutz and Carrollwood area sought higher ground on Monday.
A Carrollwood homeowner told FOX 13 that the bear climbed a tree on their property around 9:30 a.m. The bear was then seen climbing down the tree around 2 p.m.
Neighbors have been following the bear's movements as it's been spotted throughout their community during the last nine days.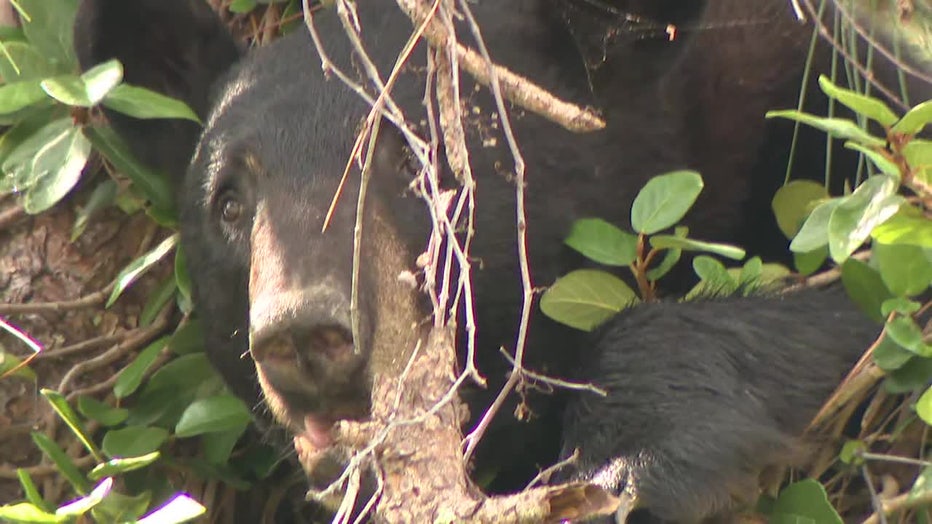 A bear that has been seen in Carrollwood and Lutz over the past few weeks was up in a tree on Monday. 
"We've been tracking it on Facebook, like getting all the updates," said Steph Ward, whose husband saw the bear walking through their yard Monday morning, minutes before it climbed a tree in a neighbor's yard. "I told my nanny not to walk very far because I thought it would probably just get as close as to maybe the playground or around this area. Never thought it would actually be in our backyard."
The bear was first reportedly seen about five miles north in Lutz on May 13. It is believed to be between one and two years old.
PREVIOUS COVERAGE: Black bear spotted in Carrollwood for 5th time in five days
Home security cameras, mostly in the Carrollwood Meadows area, have recorded the bear walking across driveways, yards and a porch. This is the first time it's climbed a tree.
"My husband said it was actually pretty loud in the bushes, like, it felt like it was like a dinosaur, like roaming around. And then he just saw it come out," said Ward.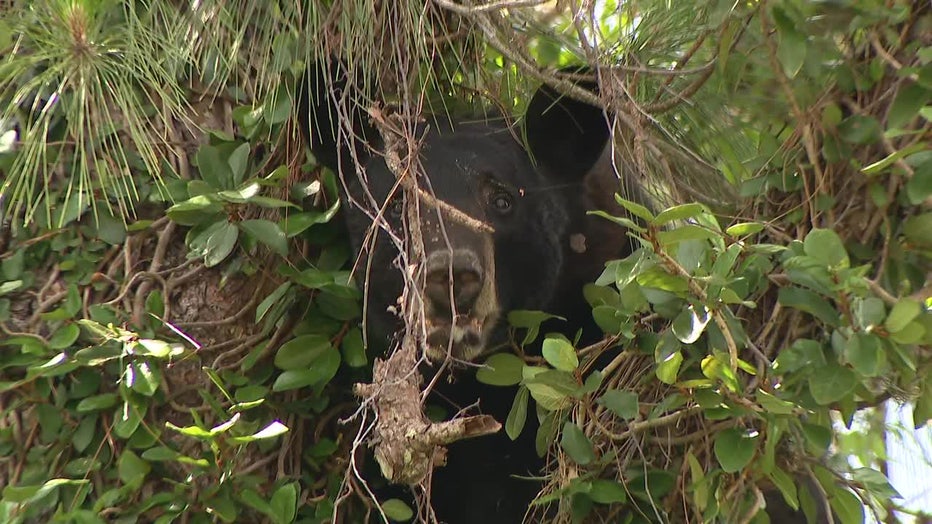 A bear in a Carrollwood tree. 
MORE: Black bear caught on camera wandering through Carrollwood, Lutz neighborhoods
"I've been in this area my whole life, and I really haven't seen one ever in our neighborhood or this area. So it's pretty crazy," added Andrew Guggino.
The Florida Fish and Wildlife Conservation Commission says it is not unusual for bears to show up in residential areas this time of year because they are more active. 
This is especially true, FWC says, for juvenile bears that are leaving their mother's home area, which is what officials suspect with this bear. 
FWC says it plans to leave the bear alone to find its way out of the Carrollwood area and into a more suitable habitat.