Beef patties recalled for potential contamination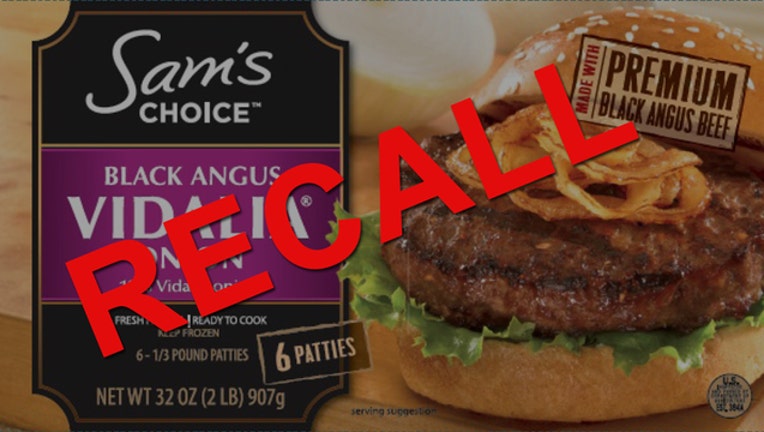 article
(FOX 13) - Huisken Meat Company said it's recalling 89,568 pounds of Sam's Choice Black Angus Vidalia Onion Patties for a potential foreign material contamination.
The company said wood materials may have gotten into the onions used in the patties.
It was discovered by the company's production team as part of normal safety control procedures and was reported to the US. Department of Agriculture Food safety and Inspection Service (FSIS).
The recall was labeled Class II, which means there is "a remote probability of adverse health consequences from eating the food."  
No one had reported injuries from the product. 
The recalled product was sold as frozen patties, in quantities of six, in cardboard packaging with the SKU (Stock Keeping Unit) number 078742028989, Est # 394A. 
All affected retailers were notified and have taken action to remove unsold product from their warehouses and store shelves.
The product was distributed to the following states:
Florida
Alabama
Louisiana
North Carolina
Maine
Pennsylvania
Texas
Virginia
Missouri
New York
Georgia
Mississippi
Oklahoma
Illinois
Tennessee
Ohio  
Recalled products will be labeled Best if used by 5/17/16 or 5/29/16 or 06/11/16.
Consumers that have purchased this recalled product should return the product to the place of purchase for a full refund.  
Consumers with questions should contact Huisken's Customer Service team at 618-857-4011 or email your message to at dgreen@bih-us.com.
For more information about the recall, visit http://www.fsis.usda.gov/wps/portal/fsis/topics/recalls-and-public-health-alerts/recall-case-archive/archive/2016/recall-001-2016-release