'Beloved' teacher at Sarasota High dies after contracting COVID-19, principal says
SARASOTA, Fla. - There's not enough time possible to describe Robert Shackelford. 
"He was a patriot, he loved his country, he loved all the freedoms that this country afforded everyone," said his sister Jo Lumpkin. 
At 61 years old he was about to enter his 30th year of teaching. He had plans to retire next year from Sarasota High School.
"He was a great coach, a great mentor he went above and beyond in everything he did," said girlfriend Catherine Georger.
Shackelford lived life to the fullest. He played football in the NFL as a free agent for the Packers in 1981, the Atlanta Falcons in 1982 and the Birmingham Stallions in 1983.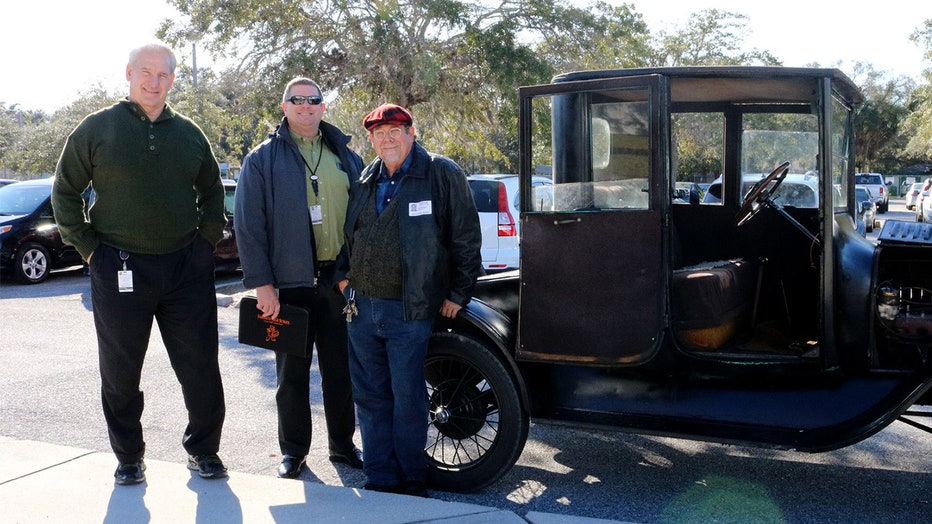 Robert Shackelford (far left) is pictured with two others earlier this year. He arranged for a Ford Model T to visit Sarasota High, where he taught social studies, as part of a class lesson. The school's principal announced he recently passed away af (Sarasota County School District)
He wanted to be an Airborne Ranger and follow in the steps of his father, but since he was colorblind he couldn't be an Army pilot. Instead, he turned to coaching and teaching. 
He coached football with the US Army at Ft. Benning, Union College in Kentucky and UCF.In 1994 he coached with the Tampa Bay Storm. 
He coached high school football in Manatee, Sarasota and Charlotte Counties. He also taught history. 
His students had some of the highest test grades throughout the state of Florida. As a true history buff, he visited nearly every Civil War battle site. He was the proud son of an Army Colonel and lived what he taught.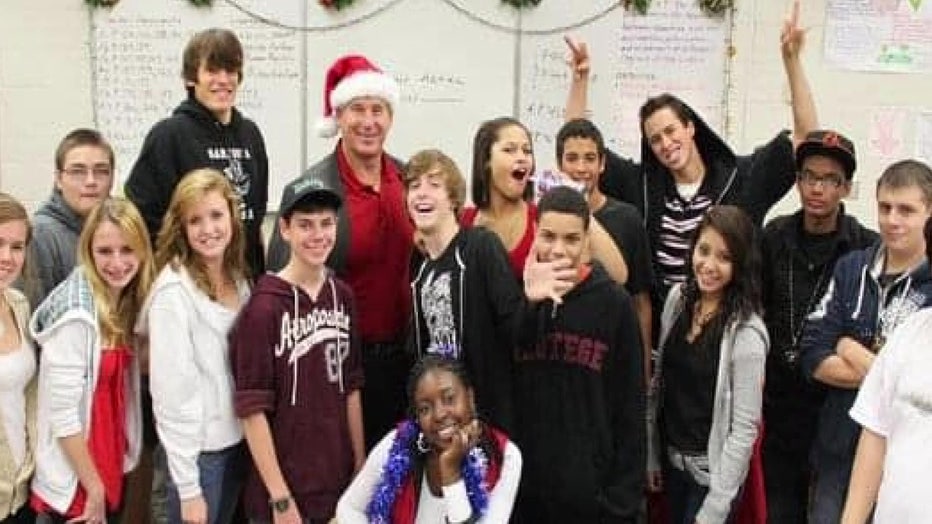 "His knowledge and love of his country and the history that made us so great that we are and the freedoms that we all get, he brought that to life in the classroom and he challenged his students," said Georger. 
Outside the classroom, family came first. He was there as a brother and a best friend to his handicapped brother, Steven. 
"He was just a huge advocate for Steven and he'd make sure that the nurses and doctors were doing the best for him. He'd do that for any member of his family." 
Last month after a trip to Georgia, Robert thought he had a stomach bug, but he tested positive for COVID-19. While strong and healthy, the virus caused severe respiratory problems. 
"The doctors just tried everything humanly possible," said Georger.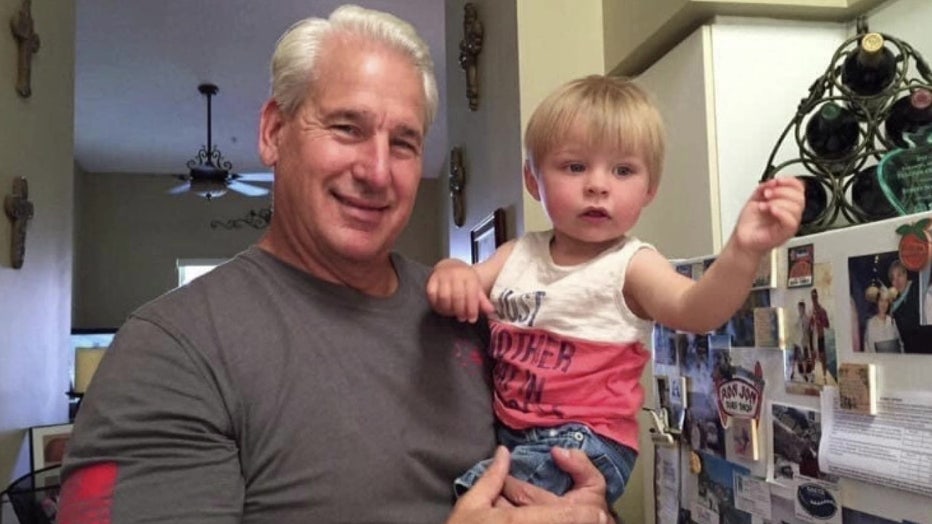 After two and a half weeks in the hospital, he was placed on a ventilator. 
"He kept having complications each day that they kept trying to fight and trying to fight," said Georger. 
On Wednesday afternoon, his family said their goodbyes on Facetime from a cell phone and an Ipad. 
Nurses held his hand, as his life ended. 
"Someone as strong as Robert was physically, for this virus just to ravage him people need to take this thing seriously. This thing is a beast. It's an invisible beast," said Lumpkin. 
Shackelford's loss will be felt through the halls of Sarasota High School, on the football field and in the hearts of those he knew. 
"I think his legacy has to be love fully and to love your family love God and love your country," said his sister Liz Baker.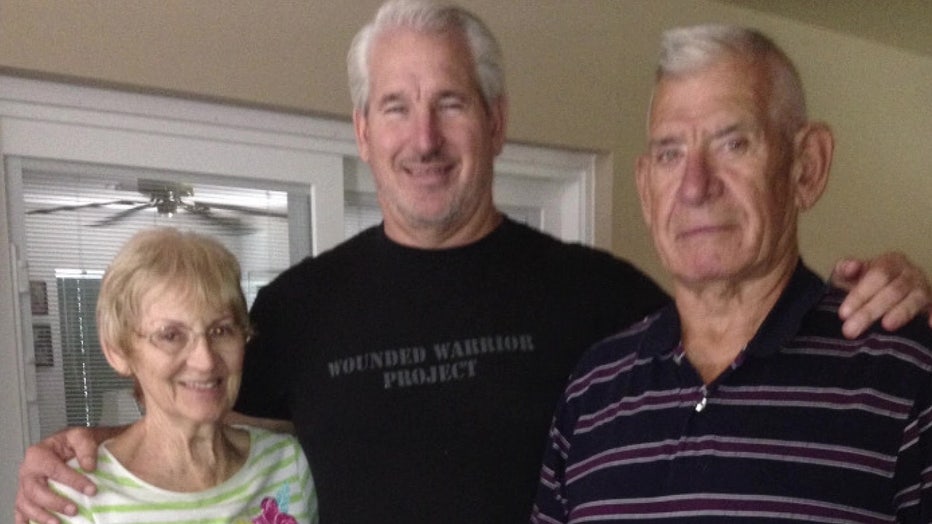 The principal Sarasota High School announced that one of their teachers at Sarasota High School passed away after a battle with COVID-19.
"It is with a very heavy heart that I write to you. Our beloved teacher, Robert Shackelford, lost his life today to COVID-19," Principal David Jones said in an email to teachers and staff members.
  
Shackelford was honored as Sarasota High's teacher of the year back in 2015. He was a social studies teacher at the school, whose death has left a void at the school, the principal added. 
In the statement, Jones described Shackelford as a man of "intelligence, integrity, and incredible conscientiousness, whose life and career was indeed an inspiration to us all."
School officials did not say whether Shackelford was hospitalized after contracting the disease, or what, if any, symptoms were showing. They also didn't specify if he had any underlying conditions.
The principal's full statement can be read below:
Dear Sarasota High School Family,
 
It is with a very heavy heart that I write you. Our beloved teacher, Robert Shackleford, lost his life today to COVID-19.
 
When we at school heard of Robert's passing, we were saddened beyond belief. There was a feeling that passed among us, a feeling that his death has left us with a void that can never be entirely filled. 
 
Our sorrow is abiding, and perhaps one of the few consolations we have is the knowledge that we were privileged to know and work with Robert over the years. During that time, we came to know him as a person of intelligence, integrity, and incredible conscientiousness, whose life and career were indeed an inspiration to us all.
 
We also take comfort in the fact that a part of him will continue to live, reflected in the lives of the students he has instructed and guided over the years. As a teacher, he gave of himself, perhaps the greatest gift of all, and those students who were fortunate enough to fall under his unique tutelage will carry his ideals, his knowledge, and his moral principles into the world, and the world cannot help but be made a better place because of it.
 
Our hearts and our prayers are with his family and with our SHS family at this most difficult of times.
 
David Jones
Principal, Sarasota High School