Big Cat Rescue CEO: 'People have been trying to kill me for years'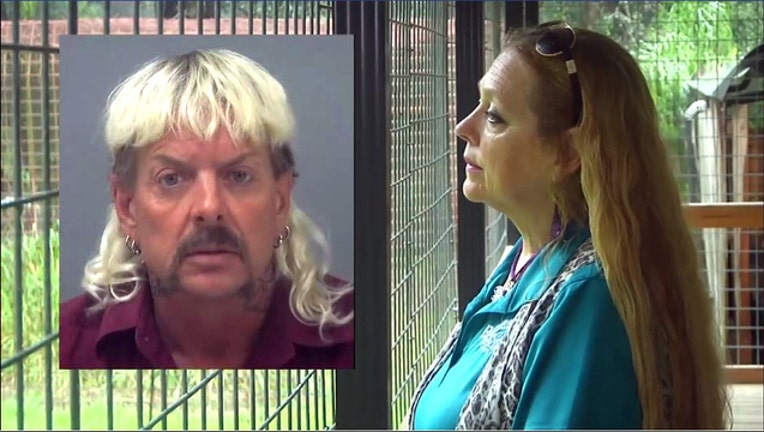 article
TAMPA (FOX 13) - The CEO of an exotic cat sanctuary in Tampa said she was not surprised that she was allegedly the target of an alleged murder-for-hire plot.
The man who the FBI says tried to kill her now faces multiple charges.
Carole Baskin, CEO of Big Cat Rescue, has made it her life's mission to rescue lions, tigers, and other big cats from people who abuse and mistreat them.
She says her work has led to multiple death threats from exotic animal owners, physical attacks, and now an alleged hit being taken out on her life.
Joe Schreibvogel Maldonado-Passage, 55, - also known as Joe Exotic - is now behind bars, accused of trying to hire someone to kill Baskin.
"People have been trying to kill me for years," Baskin said. "So, it really didn't come as a surprise."
Baskin's sanctuary cares for more than 60 big cats, most of which were rescued from so-called roadside zoos.
According to Baskin, Maldonado-Passage had been running a traveling petting zoo she believed to be inhumane, so in 2010 she started speaking out against him online.
Maldonado-Passage was said to have been enraged, prompting him to post a threatening video to his website, depicting Baskin being shot.
Baskin later posted the video on her Facebook page.
"Last night was the first time I saw that clip," Baskin said. "I was actually shaking after seeing it."
You might remember Joe Exotic from his run for president in 2016, posting this campaign video to his website.
According to court documents, Joe Exotic asked an unnamed person to kill Baskin in July 2016. 16 months later, he asked a second person to kill her, this time that person put him in touch with an undercover FBI agent.
Baskin says the alleged murder-for-hire plot has only empowered her to continue to fight for tougher laws to protect animals like the ones in her sanctuary.
"Knowing that there are 60 cats out there waiting for me to fix this problem," Baskin said. "That motivates me more than anything."
Maldonando-Passage has been indicted on two counts of murder-for-hire. If convicted, he could serve up to a combined 20 years in prison.