Body camera video shows deadly pursuit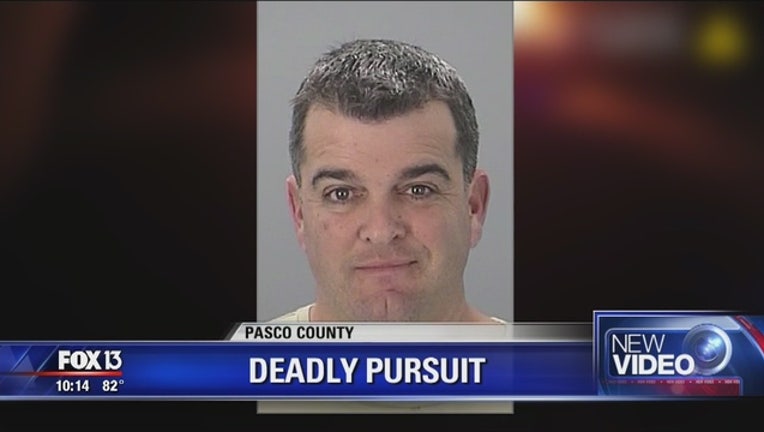 article
PASCO COUNTY (FOX 13) - New video from a deputy's body camera shows the final moments of a deadly pursuit involving a kidnapping suspect. 
The incident took place Saturday around 10 p.m., according to the Pasco County Sheriff's Office. A suspect, identified as Michael Blomberg, led deputies on a chase down S.R. 54, before crashing his car into oncoming traffic. 
According to investigators, the suspect tried to kidnap his ex-girlfriend of 10 years at a nearby gas station. An eye-witness called the sheriff's office, after she mouthed the words "Help me."
"She was in a headlock and there was clearly signs of distress there," said Sheriff Chris Nocco, in a press conference Monday afternoon.
When deputies arrived, Blomberg sped away, leaving his ex-girlfriend behind. Blomberg reportedly drove westbound on the eastbound lanes of S.R. 54 and crashed into a truck. The driver, Kirby Sober, was transported to a local hospital, where according to family members, he is recovering.
Blomberg did not survive the crash.
Records show Blomberg had a history of domestic violence. He was arrested in September 2018 for aggravated stalking. His ex-girlfriend told detectives Blomberg went to her house without her permission, called her incessantly and threatened to 'get rid' of her boyfriend.
A day after his September arrest, Blomberg received additional charges for contacting his ex-girlfriend while in jail by using another inmate's phone card. About a month later, deputies said Blomberg was back to his old ways.
The entire chase was aired on national television as part of Pasco's Live PD show. Sheriff Nocco said the unfortunate incident gives the community a glimpse of what his deputies go through.