Brian Laundrie's mom breaks silence on controversial 'burn after reading' letter
NORTH PORT, Fla. - Brian Laundrie's mother is speaking out for the first time about the eyebrow-raising letter she wrote to her son the year he murdered Gabby Petito. 
In a sworn affidavit, Roberta Laundrie says the so-called "burn after reading" letter was written months before Gabby Petito's death and had nothing to do with her murder.
Roberta Laundrie claims certain phrases from her "quirky" letter to her son are being taken out of context.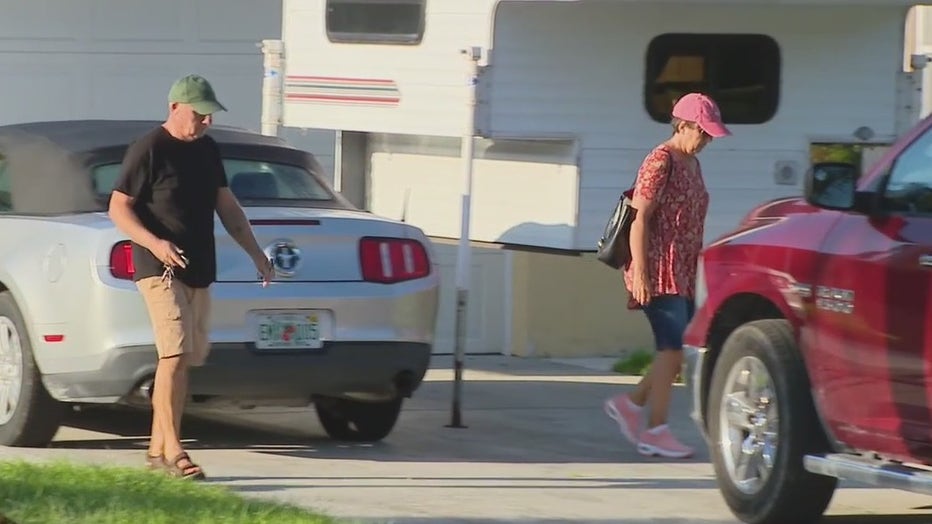 Brian Laundrie's parents leaving their North Port home
The letter has not been publicly released, but attorneys representing Petito's family have petitioned to have it included as evidence in their civil suit against the Laundries. 
READ: Parents of Gabby Petito say Laundrie family lawyer knew Gabby was dead during search, new records show
In December, Patrick Reilly, an attorney representing Joe Petito and Nichole Schmidt, filed a motion for the letter's release. Reilly claims Roberta Laundrie wrote that she "would bring a shovel to help bury a body" and that she'd written "burn after reading" on the envelope of the letter.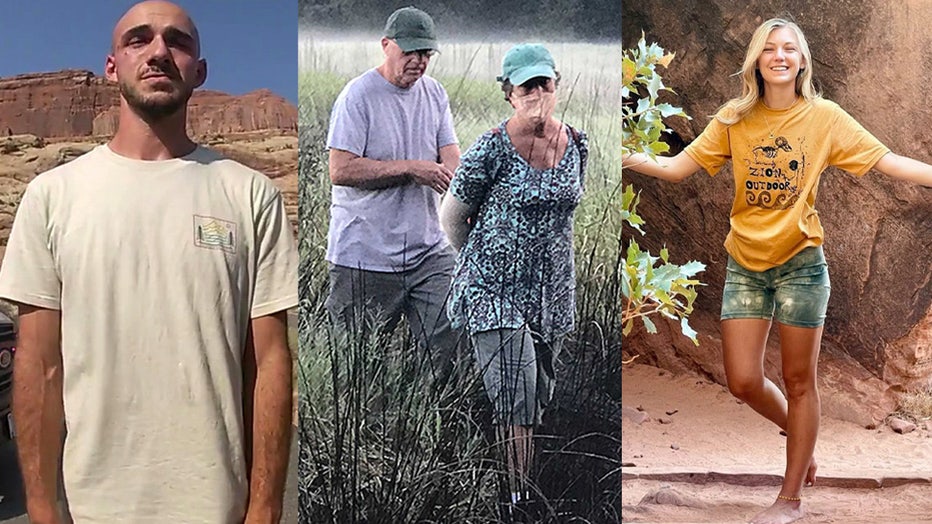 Left, Brian Laundrie; middle, Christopher and Roberta Laundrie; right, Gabby Petito
In her affidavit, Roberta Laundrie admits to writing "burn after reading" on the letter's envelope, but claims the phrase is a reference to a book she and Brian enjoyed. She says her letter was an attempt to reconnect with her son during a difficult time in their relationship. 
READ: Laundries denied motion to avoid 'emotional distress and embarrassment' during civil trial
She explains the letter's content as, "similar phrases to describe the depth of a mother's love" and says she referenced passages to children's books like "The Runaway Bunny" and "Little Bear". 
While she doesn't directly address the comments she allegedly made about helping to bury a body, she does tell the judge that some of the "quirky" parts of the letter were inside jokes she and Brian shared. 
READ: Brian Laundrie's parents will face jury for allegedly knowing about Gabby Petito's death during search
"There were some other phrases that I used in the letter, which are not found in the books I shared with Brian as a child. However, these phrases are common enough in our circle of friends and family, to describe who you could turn to in the most troubling times of your life," Roberta Laundrie wrote in her affidavit.  "While I use the words that seem to have a connection with Brian's actions and his taking Gabby's life, I never would have fathomed the events that unfolded months later between Brian and Gabby would reflect the words in my letter."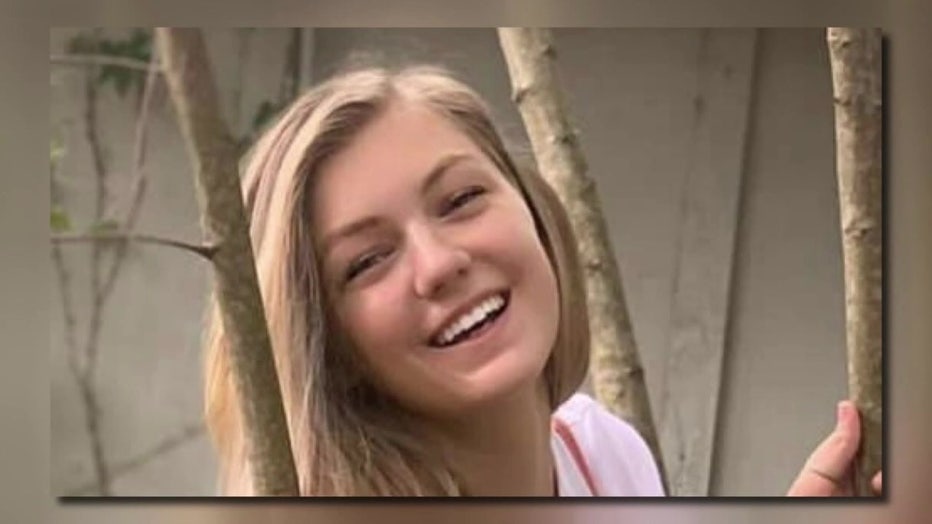 Gabby Petito's family helps her legacy live on one year after her death. 
According to Roberta Laundrie, she gave the letter to her son in May 2021, before he and Gabby left for the trip where he would kill her. 
READ: Gabby Petito's family awarded $3 million in lawsuit against Brian Laundrie's parents, estate
"The words in the letter could never have been a comment on that tragic situation, as they were written so many months before. My words to Brian were meant to convey my love and support for my son through a light-hearted and quirky reminder that my love for him was not diminished, and could not be shaken by the miles of separation we would soon be faced with," wrote Laundrie. 
Both sets of attorneys agree that the letter is undated. 
READ: Gabby Petito took photo of her injuries on same day Moab officers responded to domestic violence call: lawyers
Brian Laundrie's remains were found at the Myakkahatchee Creek Environmental Park 10 minutes from his parents' North Port home on Oct. 20, 2021. Investigators also recovered a backpack containing a notebook, suicide note, and several letters from the scene.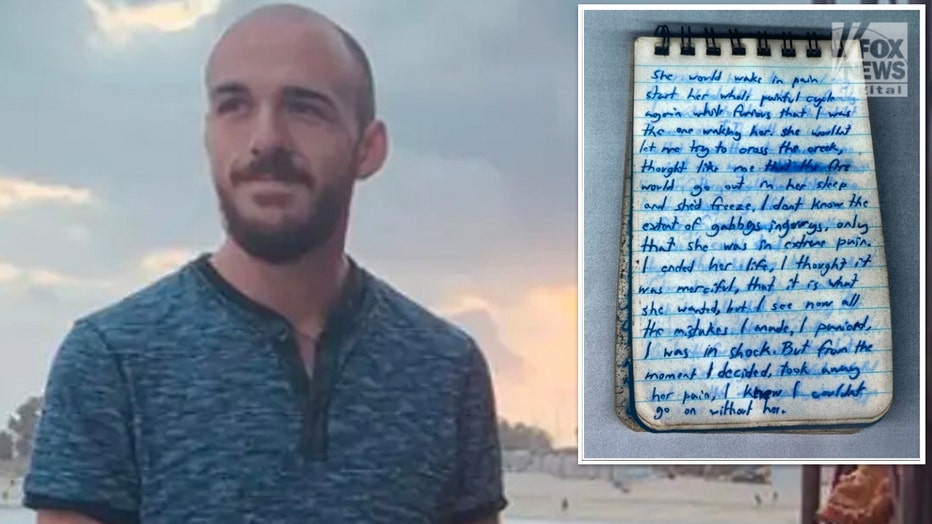 A portion of the eight-page note that Brian Laundrie left. (Michael Ruiz/ Fox News Digital)
Reilly told Fox News Digital that a letter written by Roberta Laundrie seemed to indicate that she knew her son had murdered Gabby Petito and offered to help him cover it up. 
READ: Petito family: New evidence shows Utah officer at domestic violence call was abuser, himself
"If my belief as to the time it was written is accurate, it shows that at least Roberta Laundrie knew of Gabby's murder before Gabby's body was located. The rest of the notebook contained letters to his family," Reilly told Fox News Digital at the time.
Contrary to Roberta Laundrie's claims, Reilly said, "the content of the letter seems to indicate that it was written after Gabby's death."
The civil case filed against the Laundries is set to start in August.