Buffalo Bills fans brave heavy snow during game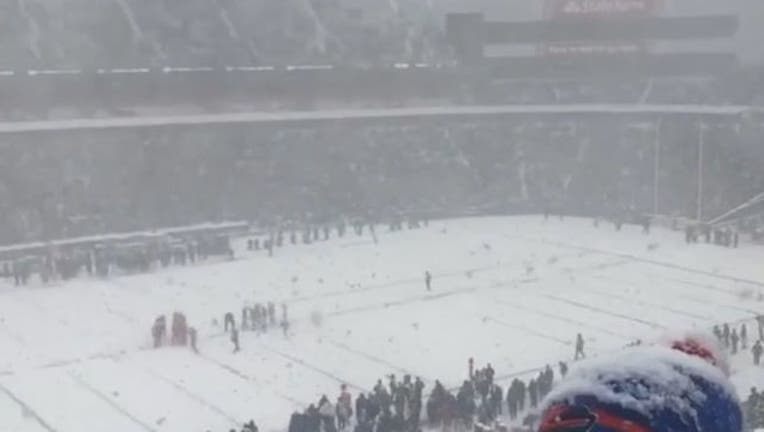 article
BUFFALO, N.Y. (AP) - A band of lake-effect snow did not deter Buffalo Bills fans from cheering on their team.
Video from inside the stadium at New Era Field in Erie County, New York on Sunday showed the whiteout conditions. On Friday, the team requested snow shovelers to help clear the field of snow.
The National Weather Service reported up to 18 inches of snow, and a maximum of two inches per area could fall around the Buffalo area.
James Reese scored 18 points with six rebounds and six assists as Buffalo cruised to an 88-54 win over Division II Central Pennsylvania College on Saturday.
CJ Massinburg had 13 points and 11 rebounds for the Bulls (6-3). Montell McRae added another 13 points, Jayvon Graves had 11 points and six assists and Jeremy Harris added 10 points with 10 rebounds.
The team averaged 48 percent shooting from the floor compared to 32 percent for Central Penn.
Buffalo led all the way and a McRae dunk capped a 15-2 start and Reese sank three 3-pointers in the half to help build a 46-18 advantage at the break.
Central Penn doubled its first-half points in the second period but trailed by double figures throughout and the Bulls cruised to the win.
Randy Dupont led the Knights with 20 points. Noah Baylor grabbed 12 rebounds.