"But what if she lives?" Baby Abigail's journey to beat the odds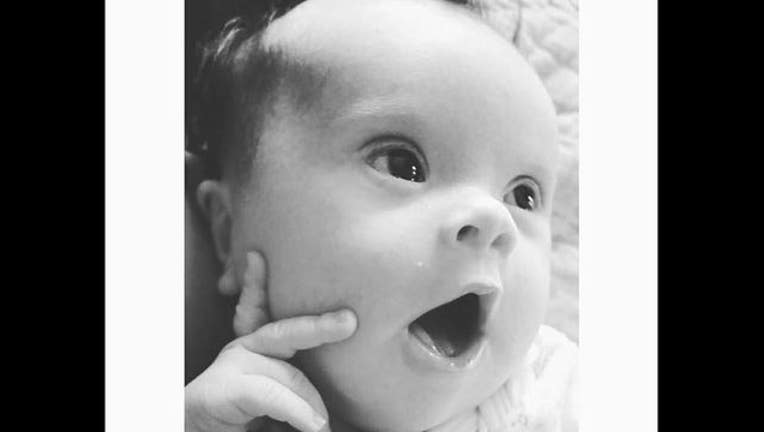 article
BOSTON (FOX 26) - A baby girl that stunned the Internet, and captured the hearts of people across the nation, has defied the odds according to her doctors and family.
Shortly before her birth, Abigail Jones' family was told to expect the worst. In an interview with Boston Children's Hospital, Abigail's family was told by doctors near their hometown in Florida that she would die shortly after birth due to a large mass, thought to be malignant brain tumor, detected in her brain. 
"I've planned her funeral, what we would do with her ashes, what songs we would sing, what pictures I would display to show how perfect she was and how much she was loved," Erika, Abigail's mother, said in a blog update she shared to Abigail's Facebook page audience.
The family even prepared for pediatric hospice prior to Abigail's birth.
Then the miraculous adventure began. Abigail started to grow, and thrive, despite also being diagnosed with Down syndrome 18 weeks into Erika's pregnancy.
The family also received new hope when they encountered a doctor who felt differently about the tumor growth Abigail was facing. According to Good Morning America, Dr. Alan R. Cohen, neurosurgeon-in-chief at Boston Children's Hospital was more optimistic of Abigail's diagnosis.
"The family was sent home from the hospital in Florida having been given a death sentence for Abigail," Dr.  Cohen said. "They [the Jones family] contacted Boston Children's Hospital and Mark Kieran, chief of neuro-oncology, and I reviewed the MRI and thought the tumor actually might not be malignant."
The Joneses were off to Boston.
Once Abigail was born, her father Stephen told the Boston Children's Hospital that they wouldn't stay away from her. 
"We knew there might not be a tomorrow. Everything else stopped," said Stephen.
It was then time for Abigail's surgery to remove the tumor. The family was told by doctors that if the tumor did look dangerous, it would not be removed to lessen Abigail's suffering. But doctors were optimistic.
After her second MRI, the surgery proved to be a success. Dr. Cohen removed the tumor, and results showed it was, in fact, benign.
"Joy. Gut busting, yelling from the rooftops, hugging neurosurgeons, tears, tears and more tears. My daughter is going to live. LIVE! Literally I cannot hardly believe it," Erika excitedly addressed her blog audience once again.
Erika and Stephen couldn't thank the doctors that paved this new life for baby Abigail enough.
"I have to brag on our amazing neurosurgeon, Dr. Al Cohen. Not only is he an incredibly gifted, brilliant, world renown surgeon, he truly cares about his patients and is completely enamored by Abigail." Erika said in a Facebook post. "He smiled ear to ear after her surgery when he told us it wasn't malignant. He was almost as thrilled as we are!"
Abigail was discharged from BCH on October 12, after her successful surgery and time in the hands of Boston caregivers.
The family couldn't be more excited for Abigail's future, which at one before they were told not to invest in.
We can't wait for the update on Abigail's uplifting and inspirational story. You can follow along with Abigail's updates on the family's Facebook page, Abigail's Joy.