California city forced 5-year-old to close lemonade stand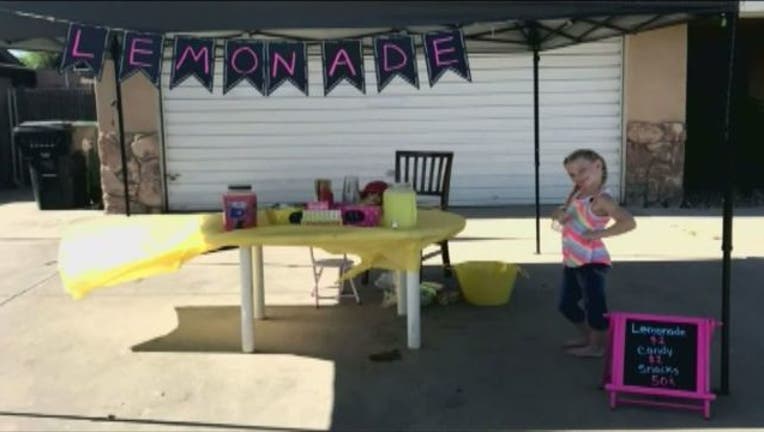 PORTERVILLE, Calif. (FOX 13) - A five-year-old's lemonade stand had to closed down after someone filed a complaint with city hall. The city of Porterville, located in California, is now apologizing for the mix-up.
Autumn put up her stand in June because she wanted to buy a new bike. She made about $80 in one day, said her mom, Gabby Dehaas, after spreading the word on social media and reaching out to relatives.
"It meant so much just to be able to know that she earned her money and that mom and dad didn't have to go buy her," she added. "She got to bring her own wallet and go buy it herself."
However, by Friday, Gabby received a letter from city hall saying she needed to pay for a business license for her daughter's lemonade stand. A printout of Gabby's Facebook post was also attached.
"I was just kind of thrown back by that because I, first of all, I didn't really appreciate a screenshot picture of my daughter being sent to me," Gabby said.
John Lollis, Porterville's city manager, said the complaint was received anonymously and the city followed up on it in the same manner they do with all of them. However, Lollis said children do not need a business license to sell lemonade.
"We want our youth to be engaged in looking at business opportunity," he said. "We received a complaint, which I think is a sad commentary."
Gabby said she is glad her family doesn't owe anything, and her daughter learned an important lesson.
"There's always going to be people or bad people," she said, "but there's always going to be good outweighing everybody."
The family plans to set up another lemonade stand now that the holidays are around the corner. Gabby said she wouldn't be surprised if Autumn used that money to sponsor a family or classmate with Christmas gifts.