Classes at tornado-damaged Kathleen Middle School to resume Monday
KATHLEEN, Fla. - Crews have been working around the clock to get Kathleen Middle School back up and running after a tornado ripped the roof off last Friday. In its path, the storm left behind flooded classrooms in disrepair and kept students and teachers out of class this week.
Polk County Schools announced students will be able to come back next Monday, Oct. 28. Teachers return this Thursday. As for the building, we're told all the repairs could take months, even up to a year.
Empty classrooms are being dried out while workers save what they can and toss what they can't.  
"There are so many people working to get this school ready to reopen," said  Rachel Pleasant, Senior Director of Communications with Polk County Schools.
Friday night's EF-2 tornado ripped part of the roof off of Kathleen Middle, the wind and rain, ravaging a dozen classrooms.
"It's totally destroyed inside. We can't salvage anything," Principal Sheila Gregory said.
Workers have since put a temporary roof in place to avoid any further damage while they make their way through a laundry list of repairs.
"You have to do the electric, the sewer for the bathrooms, the intercom, the fire alarm system, the internet, then, later this week, we will be moving in furniture and books and teachers will return to get their classrooms ready to welcome the kids back," Pleasant said.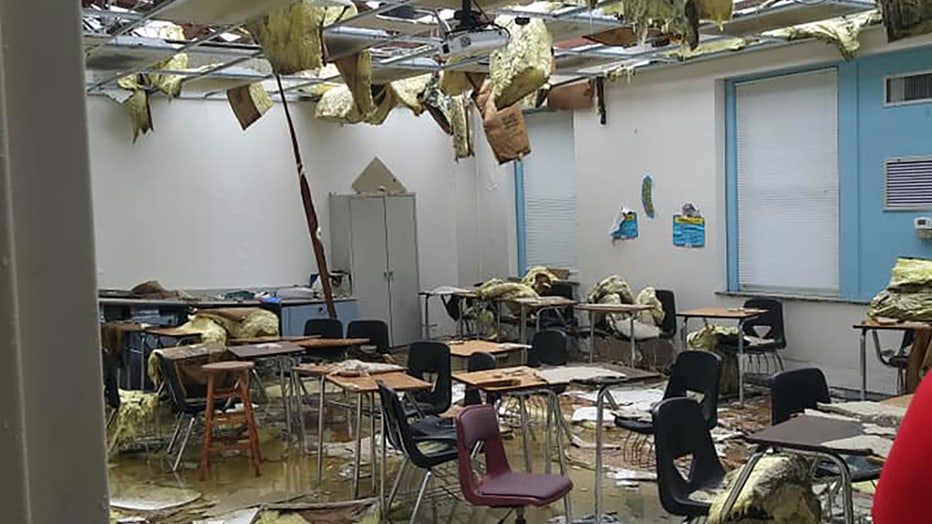 Kathleen Middle School damage (courtesy PCSD)
Twelve brand new, portable classrooms will greet students when they're able to return next Monday, following a week of canceled classes. It's something administrators were anxious to do as soon as possible.
"These kids need some normalcy," Pleasant said. "A lot of them, their homes have been damaged, their neighbors' homes, their surroundings have been damaged, so, they need a sense of normalcy and we are going to work to give them that as quickly as possible."
The historic building, itself, will take much longer to get back to normal. Extensive renovations and repairs, along with a new roof, could take up to a year. 
But with the community rallying around the school, donating classroom supplies and even food for workers, that normalcy could come sooner than later.
"Beyond even the school district, this community has really banded together and they care about Kathleen Middle and they want to help the people here get back to life as they knew it just a week ago," Pleasant said.

It's unclear how much all of the repairs will cost, as the district continues to assess the damage. No decision has been made yet on when students will make up the missed days.