Suspect arrested on second-degree murder charge in fatal shooting at Clearwater Beach surf shop, police say
CLEARWATER, Fla. - A suspect in Tuesday night's deadly shooting inside a Clearwater Beach surf shop is in custody, police said. 
The Clearwater Police Department released a photo of Johnathon Stanley, saying he was wanted on a second-degree murder charge. Investigators said the suspect was arrested at Clearwater Mall Wednesday evening.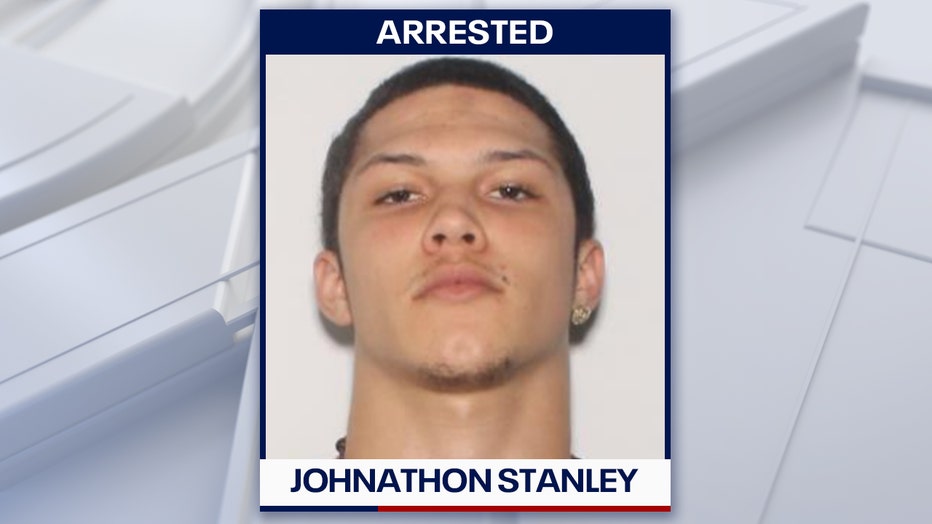 Photo of Johnathon Stanley. Provided by the Clearwater Police Department. 
This comes after a Largo man passed away from his injuries following the shooting inside Surf Style, which is located at 315 South Gulfview Boulevard, at around 8 p.m. Tuesday. Wednesday morning, police identified the victim as 22-year-old Rodney Sweeney.
When police arrived, Sweeney was found on the second floor with a gunshot wound. He was taken to Morton Plant Hospital with life-threatening injuries where he died.
Police have increased patrols in Clearwater Beach to ensure everyone feels safe as spring break continues for many, Slaughter said. 
"We want everyone to feel safe when they come to the beach, or anywhere in Clearwater," Slaughter said. "While violent crime is lower in Clearwater than other places, unfortunately, it is not completely immune to the increase in violent crime being seen across the country."
Police released surveillance images of the three persons of interest on Tuesday. Police said they're still trying to sort out exactly how the three persons of interest and Sweeney all interacted with each other Tuesday.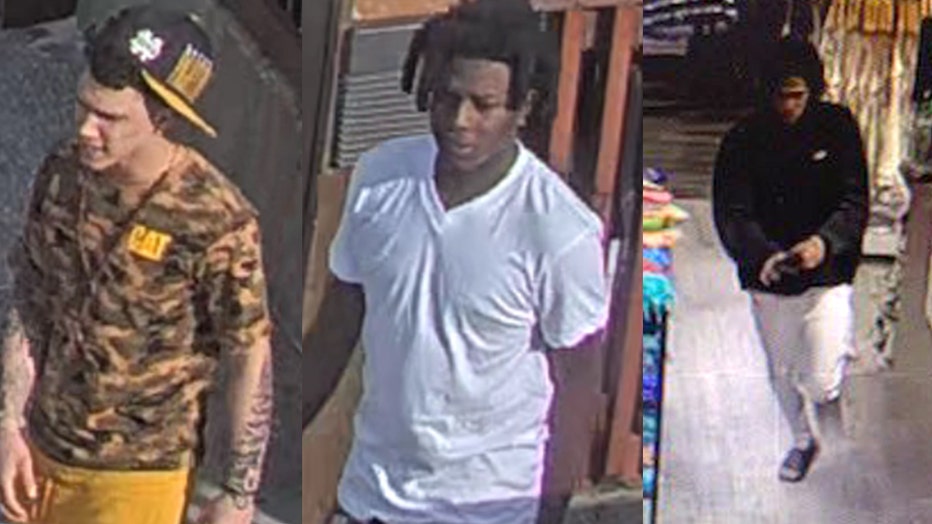 Surveillance images of the persons of interest, provided by the Clearwater Police Department.
 They said they do know two men got into a fight on the second floor of the store, and it escalated into the shooting.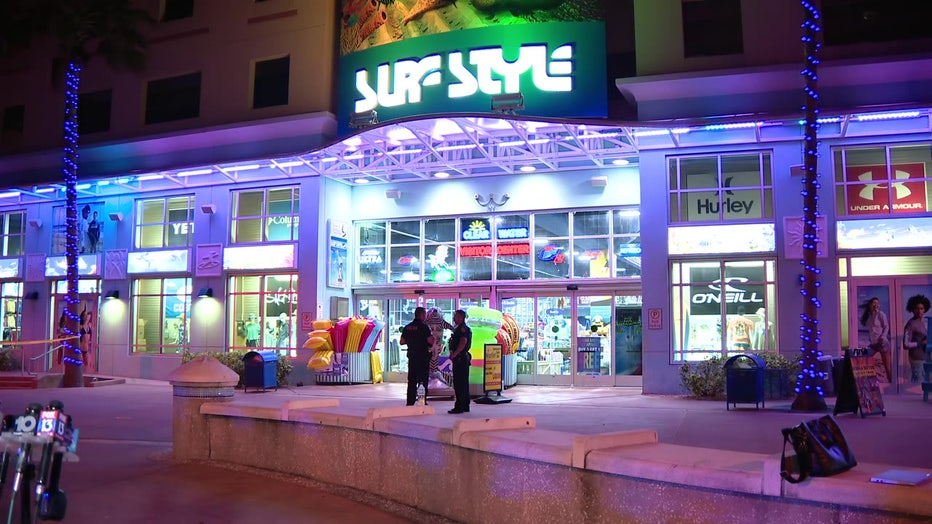 Pictured: Shooting scene outside Surf Style in Clearwater.
"It is spring break," said Deputy Chief Michael Walek. "There are a lot of people out here, and we do have additional manpower deployment out here to make sure everybody is safe. This is an isolated incident."
Families, like the Smiths who are visiting from St. Louis, said they were in Surf Style at one point during their visit. They were both shocked and saddened to hear about the shooting, but are happy to see officers in the area, the family told FOX 13.
READ: Coachman Park announces name for new concert venue
"We were walking up and down this street for the last couple of days in the evening going to get something to eat and there was nothing. So, we were really surprised," Konstantina Smith said.
The Smiths said the incident won't deter them from returning to Clearwater Beach.
"I feel safe now today and as I said – with the police presence last night, and I've seen them up and down the beach, a couple of times – I feel totally safe," said Brandon Smith. "So, like he [Deputy Chief Michael Walek] said, it was an isolated incident. I feel pretty calm and safe about being around here."
Anyone with information on incident, the identities, or the location of the persons of interest is asked to call Clearwater police at (727) 562-4242.