Controversial church sign angers voters at polling place in Pasco County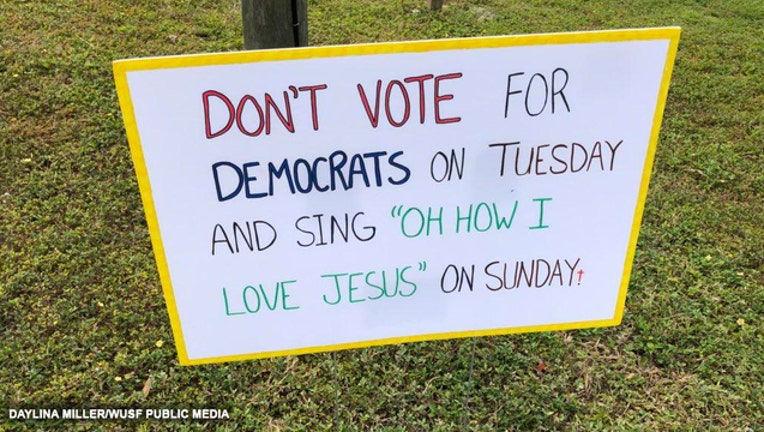 article
NEW PORT RICHEY, Fla. (FOX 13) - Voters are outraged at a sign that's posted outside a Pasco County church that is also a polling place. 
The sign outside the Grace of God Church in New Port Richey says, "Don't vote for Democrats on Tuesday and sing 'Oh how I love Jesus' on Sunday," with the caption "Sign says it all." 
The photo of the sign posted on the church's Facebook page has received hundreds of angry comments from people calling for the church not to be a future polling place and for it to lose its 501 (c) (3) status, which requires that nonprofits not attempt "to influence legislation as a substantial part of its activities and it may not participate in any campaign activity for or against political candidates." 
According to the Pasco County supervisor of elections, the sign meets the requirements of being further than 100 feet from the entrance of the polling place or the "no solicitation zone." Beyond that 100 feet, the supervisor of elections office says it's private property.
Supervisor of Elections Brian Corley said he contacted the pastor of the church about the sign in hopes he would remove it, since the elections office was getting a "tremendous amount of complaints" from voters.
"The Pastor relayed that he personally placed the sign there but the church supports him," Corley said. "He indicated he would not take the sign down and I told him that his decision would result in us not using his facility as a polling place and it would cost the taxpayer money to notify the voters of a change of a polling place and legal advertising," Corley said. 
The church responded to angry comments by saying, "Gods dedicated property does not change on the first Tuesday of Nov every two years. It is in the same vain as our marques (sic) that is used to share a message. I'll risk losing our 501-3C and honor our sacred rights to free speech."