Customer held at gun point during armed robbery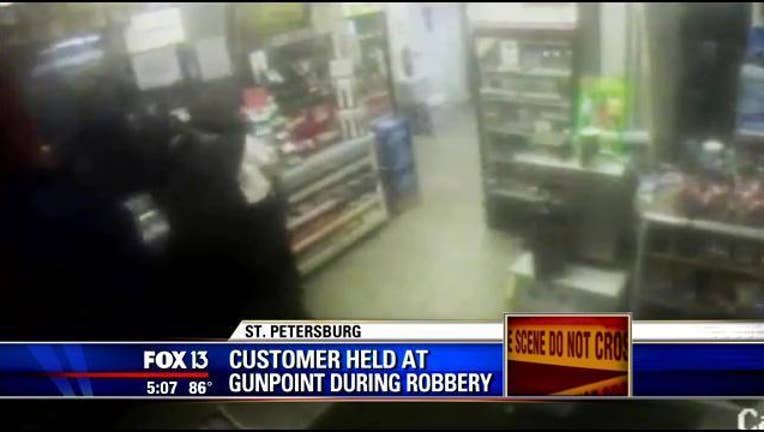 An armed robbery suspect barges into a St. Petersburg convenience store goes after the clerk -- and a customer.
It happened last Friday night at the Mobil gas station on Dr. Martin Luther King Street North. 
The suspect is still out there and police don't want to see a repeat performance. Especially, because they say this person is clearly aggressive about getting what he wants.
Surveillance video shows a customer standing at the convenience store counter at 11:50 p.m. He's paying like any other law-abiding citizen -- when a criminal storms in with a gun.
James Mayers was sitting outside the Mobil when he saw the crook go in. "I saw the kid go by," Mayers explains. "He went down to the door of the store and that was the last time I saw him. I've been coming here for 7 or 8 years and nothing ever close to this has ever happened here before. It's pretty bizarre. It can happen to anybody, anywhere."

The video shows the customer is frozen, caught in the middle of an armed robbery.
"He had a gun pointed at the clerk right away and demanded money," said St. Petersburg Police spokesperson Mike Puetz. "He was very adamant and as the video shows, he grabs the back of the collar of the guest in the store and kind of shoves him around, almost using him like a shield."
Using a shirt to cover his face, the criminal gets the money and gets out, all of this, in less than 40-seconds.
"Obviously, one of the things we are concerned about right now is the aggressiveness of it," Puetz explains. "There really wasn't any need for him to grab this man. Everybody was complying with him. He was apparently trying to use a show of force. That usually indicates a person who is prone to violence."
Mayers, a loyal customer added, "Nobody got hurt, that's the main thing."
Though the video isn't great, police hope someone recognizes the suspect's mannerisms or clothing and can help them make an arrest.
Puetz said the customer here reacted perfectly. If you're ever in this type of situation, he advises you to comply, don't resist, and 99-percent of the time, you'll walk away unhurt.