Demolition begins on Tampa flour mill, built in 1938, to pave way for Water Street
TAMPA, Fla. - The time has come for the city to say farewell to a piece of Tampa history, making room for Water Street's ongoing expansion in the downtown area. 
Demolition began Friday on the old Ardent flour mill in Tampa which, for years, city leaders have viewed as a barrier between two vital parts of the city.
The old Ardent Mills flour mill has stood in downtown for over 80 years, but removing it is all part of the city's plan to continue transforming the downtown area from an industrial space into residential and walkable areas.
The city says removing the mill will make room for neighborhoods to be connected, meaning streets like Whiting Street won't have a dead end. Residents will also be able to walk their dogs and ride their bikes easier and safer.
"That's the real issue is to really connect all these neighborhoods," said Hillsborough County Commissioner Harry Cohen. "To make it easy to walk and traverse between them, and I think this particular piece was always key to sort of opening up the passageways between those neighborhoods." 
The Ardent mill, located on South Nebraska Avenue, produced flour that is used at bakeries and restaurants throughout Central Florida. The company moved to a new factory in the Port Tampa Bay area near Gibsonton.
RELATED: Ardent Mills celebrates new state-of-the-art facility after decades in downtown Tampa
Tampa Mayor Jane Castor believes tearing down the old mill will allow the city to finally connect downtown to the Channel district. In place of the factory, developers will build business, retail and residential spaces.
Downtown Tampa has changed a lot over the past few years, but those changes continue as the city is ushering out the old to make room for the new. The Ardent Mills flour mill once played an integral role during the city's industrial era, but now it is a barrier that separates Channelside from downtown.
Castor said this project shows once again the development opportunities Tampa can offer are hard to match.
"Our city is going to change so much in the next 10 years, because we have the potential and the possibilities that other cities don't have. A [real estate] lot comes open, [other cities] build one building. Here we are creating entire neighborhoods," Castor said, adding this will also make traveling through the city safer. "Not only will we be providing more residential space for our community and for those who want to make Tampa home, but we are also providing safe transit pathways through greenways, through segregated bike paths so that individuals won't have to be tethered to a car."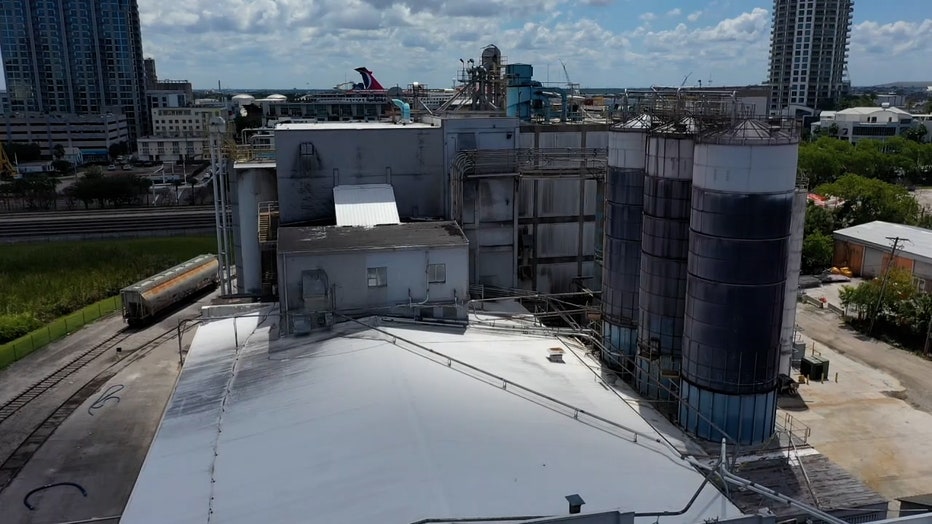 View of the former Ardent flour mill from SkyFOX drone
The mill has sat vacant for years, but plans for demolition were solidified after Tampa Bay Lighting owner Jeff Vinik paid over $13 million to take over the mill. Work began Friday to tear down the silos and the building in order to continue expanding the water street area.
The Tampa Downtown Partnership expects it to take three to four months to demolish the mill. Developers are considering leaving two or three silos to maintain some of the history associated with the factory.