Deputies investigate human remains found in Gibsonton
GIBSONTON, Fla. - More than 24 hours after Hillsborough deputies arrived at a home in Gibsonton on Friday afternoon, the scene remains active. Deputies found the remains of one adult there on Friday.
According to the sheriff's office, the scene is at a home in the 10,000 block of East Bay Road. The remains were found outside the home in the back of the property. The location of the scene unfolded not far from the Riverview GDX theater.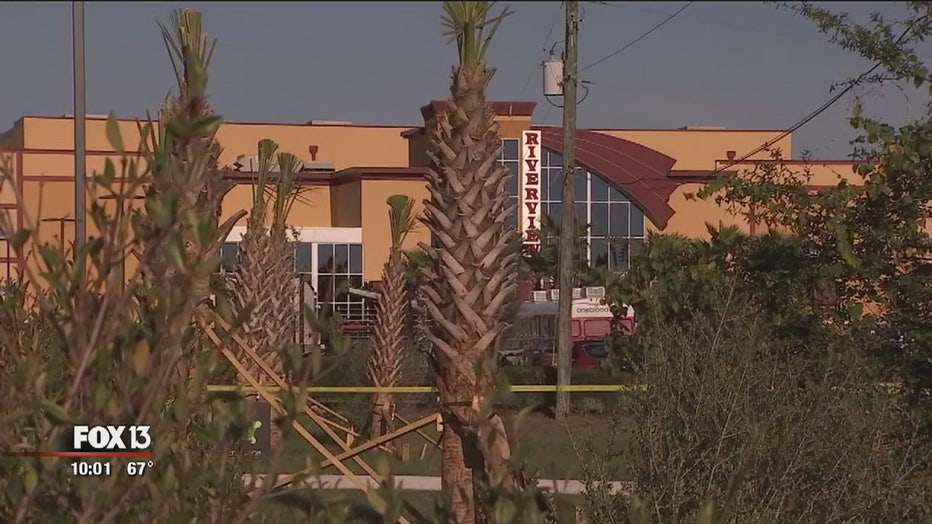 They were alerted to the area around 2 p.m. Friday by a 911 caller. "A caller reported finding human remains at the property you see behind me," said Crystal Clark, a spokeswoman with Hillsborough County Sheriff's Office.
Deputies would only confirm that the body found was of an adult and say it was found outside towards the back of the property. The identity, sex, and cause of death are still unknown at this time. 
Jesus Alvarez says it was on Wednesday afternoon when he noticed something strange in his neighbor's backyard. "I saw a hole with some sticks and a green plastic carpet," he said.
He had his nine-year-old with him so he left it at that. "I was curious about it, and I probably would have found it, but I told him let's go," he said.
Two days later, deputies discovered the remains of an adult on the property. Alvarez says they wanted to know if he saw anything.
"The questions were, did I see any domestic violence, or anybody fighting, anything like that. I said, 'No, sir.'," he said.
The sheriff's office didn't provide many details about the residents of the home on Friday. 
"We believe several people frequented this home. Right now, all I can tell you is there were several calls for service at this address just within the last month, mostly for warrant calls," Clark added.
Ashley Pintze joined the group of onlookers trying to figure out what happened. "I'm just like shocked because I know a couple of people that live in there," she said.
Police are continuing to talk to witnesses on the property to get more information. Anyone with information is urged to call the Hillsborough County Sherrif's office at 813-247-8200.