Deputies investigate shooting in North Port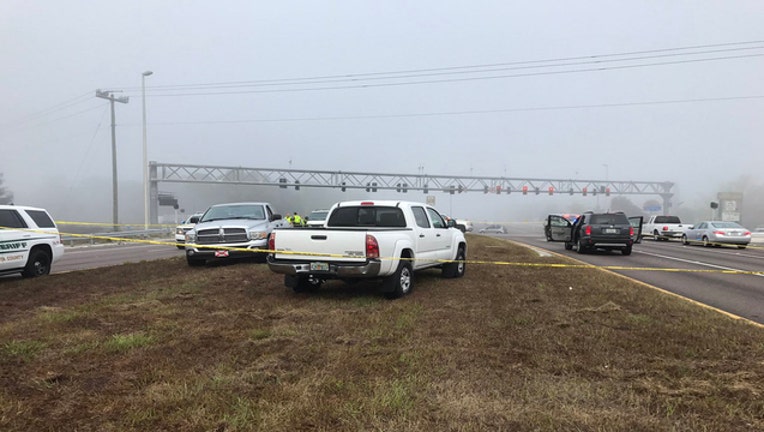 NORTH PORT (FOX 13) - A case of road rage led to a shooting on U.S. 41 at River Road Friday morning.
The Sarasota County Sheriff's Office said it happened in the northbound left-turn lane shortly before 7:15 a.m. 
A call came in about a Dodge pick-up truck and a Suzuki stopped in the roadway. Witnesses said the Suzuki stopped behind the truck.
A man got out of the passenger side of the Suzuki and started to assault the driver of the truck. Deputies say that's when the truck's driver took out a gun and shot the man from the Suzuki.
Deputies believe the dispute stared after a road rage incident.
"They located three involved parties, one of which was shot," said Kaitlyn Perez, Sarasota County Sheriff's Office spokesperson.
The man was taken to Sarasota Memorial Hospital.
He remains in stable condition.
Deputies are continuing their investigation.
"There's a lot of folks that travel this road. It is very likely that someone saw the interaction that happened to this party," said Perez.
For drivers, the crime scene tape put a damper on their day. Investigators scoured the median along U.S 41 and River Road Friday morning.
"I thought it was an accident," said Alan Campopioanio. "This time of the year it's kind of heavy because of the snow birds and stuff,"
Traffic backed up and crawled at a snail's pace.
"Very scary. This is in the middle of the road so you just never know," said Sam Neff.
This incident gave them a reminder to always be aware of their surroundings.
"It's unbelievable the way people drive now-a-days. You just can't be too careful. Just got to keep an eye on everybody around you," said Neff.