Dolphins Winter and Hope celebrate birthdays at Clearwater Marine Aquarium
CLEARWATER, Fla. - Two local celebrities celebrated their birthdays this weekend. Winter and Hope, the Dolphin Tale stars living at the Clearwater Marine Aquarium, were spoiled with gifts and cards from visitors all over the U.S.
 
"Today, actually, is Hope, our youngest female bottlenose dolphin's birthday. She's turning 10 years old. Yesterday, we celebrated Winter's birthday, where she turned 15, so we've had a weekend birthday bash for the two girls," said Kaylee Galindo, one of the trainers at the aquarium, during an interview with FOX 13 on Sunday.
 
Winter and Hope are two of the more famous dolphins at the Clearwater Marine Aquarium and celebrate their birthdays just one day apart. Every year the aquarium will have a celebration, but this year was extra special.
 
"It's their first birthday here in their new pools, so it's really exciting," said Galindo.
RELATED 14 years later, Winter the dolphin reunited with fisherman who found her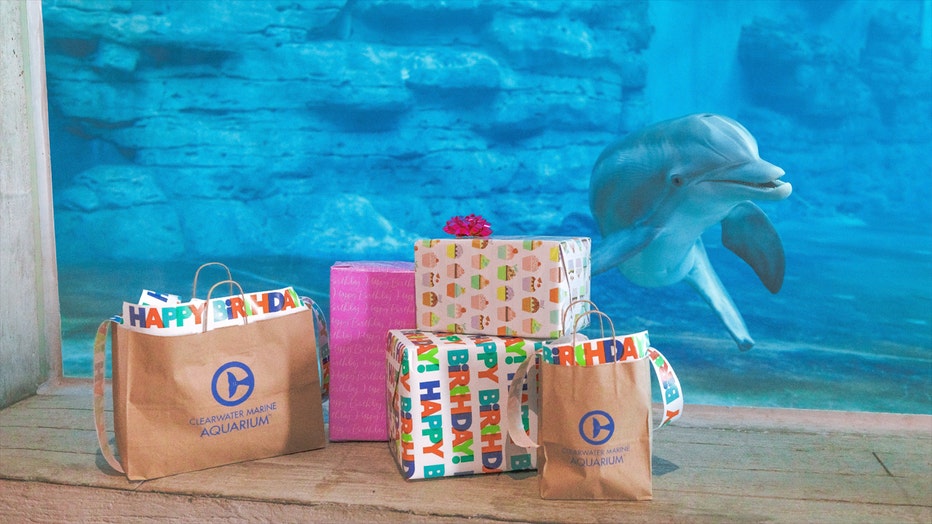 Courtesy: Clearwater Marine Aquarium
The new pools are a part of the aquarium's expansion which has been in the works for many years. Now just a week away from the building's official grand opening, guests were able to get up-close views of the birthday girls from the massive, new viewing windows.
 
"You get a great view of them, and their highly engaged in the windows so just seeing that interaction between the guests, between the animals, it's a really cool feeling, something really special," said Galindo. "This will definitely be a birthday we all will remember."
 
Between all the cards and gifts from aquarium visitors, it seems it's a birthday that Winter and Hope will remember too. 
 
"Something that we've enjoyed down at our new windows is people bringing birthday cards for the dolphins," explained Galindo. "They really enjoy going down to the window to see those."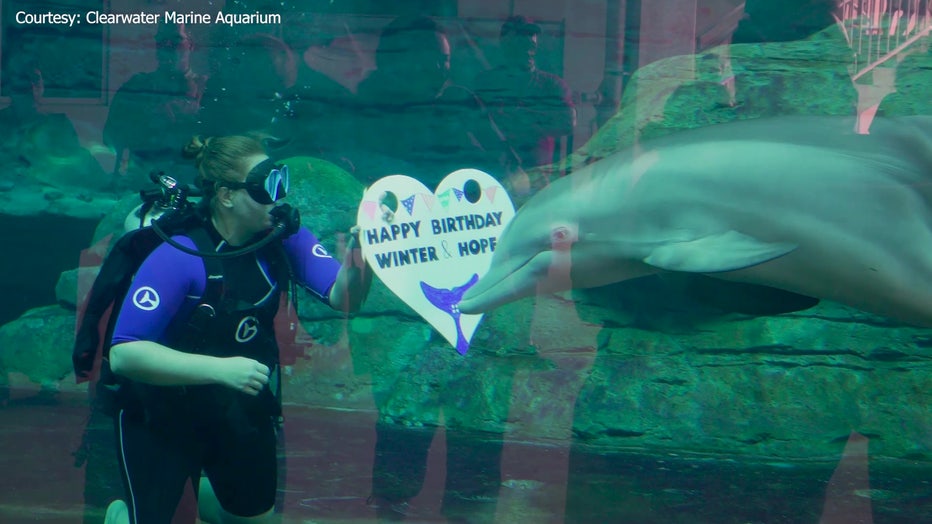 However, it's also a birthday that one little girl from Portland, OR said she won't forget either.
 
Malina Dodd shares a birthday with her two favorite dolphins. So, she made the more than 3,000 mile trip with her family to make sure they could all celebrate together.
 
"I'm really excited," said Dodd. "I like that she is here, and that I get to meet her."
WATCH: FOX 13's original report on Winter the dolphin
Winter and Hope's story made Dodd fall in love with her two birthday buddies, so much so, that she hopes one day it will be more than just a birthday she can share with them.
 
"I just really love dolphins, and I want to train dolphins when I'm older," said Dodd.
 
Even though the birthday celebrations have ended, the aquarium said they still invite guests to bring cards to show to Winter and Hope. They are still accepting gifts for the dolphins as well. To view the aquarium's wish list, visit https://thankfulregistry.com/cmaquarium.
CONNECT WITH FOX 13: