Domestic violence: Knowing the signs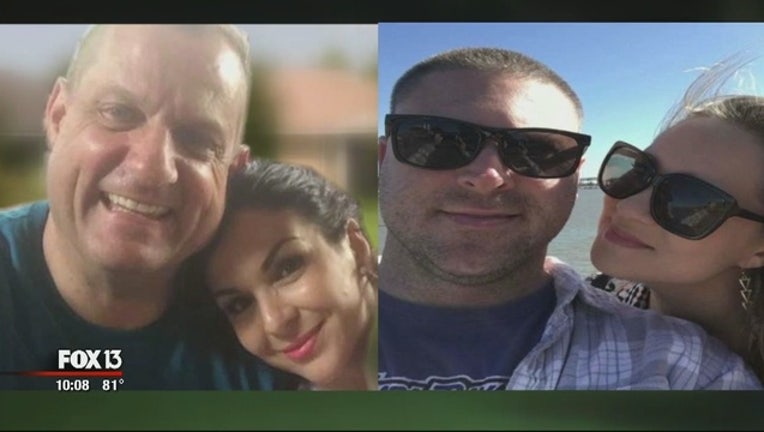 TAMPA (Fox 13) - Families are grieving the loss of loved ones in two separate instances of domestic violence Monday.
In Manatee County, a Bradenton man shot and killed his wife and step-daughter before taking his own life. In Pasco County, a Hillsborough County deputy shot and killed his wife before killing himself.
Hillsborough County Sheriff Chad Chronister said he's going to do what he can to help employees at the sheriff's office deal with the tragedy.
Counselors in the Tampa Bay area shared warning signs and explained what happens now for the children left behind. Warning signs of domestic violence vary, but common ones from perpetrators include the need for control, abuse, strangulation and threats.
"Does that often lead to murder suicide? No, but it creates an atmosphere of tension, walking on egg shells and fear," said David Swindall, a licensed marriage and family therapist in Pinellas Park.
It's unclear what happened to lead to the shootings, and not much information was released about any prior reports of violence or abuse.
Swindall heads up domestic violence programs, including one with perpetrators who want help.
"Often times they become abusive from the victim position. 'Look what you did to me, and now, I'm entitled to talk to you the way I do, control you the way I do,'" said Swindall.
Both families leave children behind to grieve.
"Those children are going to be either crying or isolating or raging themselves. They're not going to know that this is severe, extreme circumstance that is not normal," said Dr. Stacey Scheckner, a clinical psychologist of Happy Counseling in Tampa.
Scheckner said when a family experiences that kind of trauma, the adult relatives will need care too.
"So, the adults need to be prepared to go through the five stages of grieving themselves in order to help the children," said Scheckner.
Counselors said people often know there are resources but don't know what to do about it. They said it's important for friends, neighbors, teachers to just share what they can and be supportive. Counselors said victims can sometimes tell a friend, relative or coworker about what's happened before it escalates.
If you are a victim of domestic violence, you can call the statewide crisis hotline at 800-500-1119, and every community has a center to help domestic violence victims.