Drug bust nets witness in murder of Tarpon Springs police officer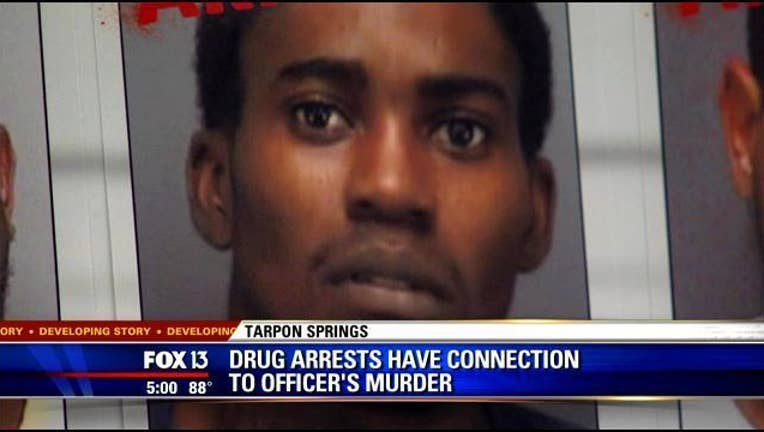 article
A major drug bust in Pinellas County landed more than a dozen people in jail, including a man connected to the case of murdered Tarpon Springs Police Officer Charlie Kondek.
At a joint news conference Friday, Pinellas County Sheriff Bob Gualtieri and Tarpon Springs Police Chief Robert Kochen detailed what they dubbed "Operation Room Service." Detectives launched the investigation June 30 and it centered around the Tarpon Inn and Sunbay Motel, which are across the street from one another on West Tarpon Avenue.
Detectives purchased drugs from 21 suspects, 14 of whom have been arrested. As a result, the suspects are facing a total of 84 charges, most of which are for the sale of crack cocaine. Other charges include the sale of methamphetamine, oxycodone and marijuana.
Chief Kochen described the drug activity as "Charlotte's Web of drug dealing thugs, all interconnected."
Among those arrested was Jareem Roach, who is described by investigators as a witness in the death of Officer Kondek, who was killed outside Roach's home in December. Roach is accused of firing a gun out his window, aimed at the suspect who had shot Kondek.
Marco Parilla is charged in Kondek's murder. Roach was charged with being a felon in possession of a firearm.
Roach got out of jail and, according to Gualtieri and Kochen, went back to dealing drugs. The sheriff said undercover detectives purchased drugs from Roach four times.
The sheriff said investigators are hoping to arrest the remaining seven suspects soon.
FOX 13 spoke with the owners of both motels, who were surprised to learn about the alleged illegal activity. The owner of the Tarpon Inn said he purchased the motel in March 2014 and has been trying to clean it up. He was relieved to hear about the arrests.