DUI driver on Dunedin Causeway had BAC of 0.264, deputies say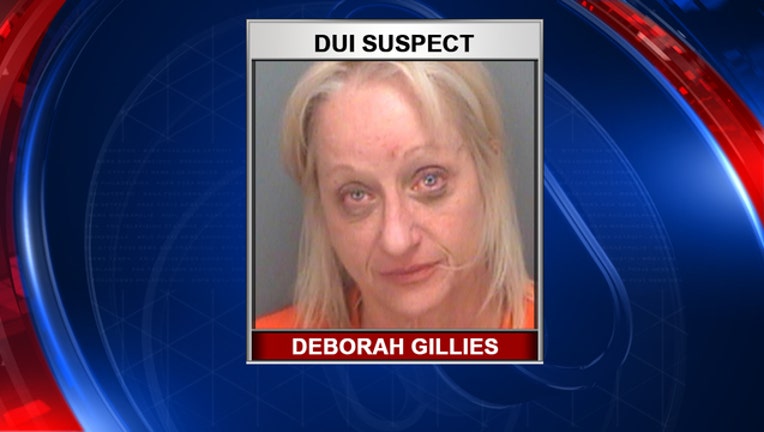 article
DUNEDIN, Fla. - A 60-year-old woman from Tarpon Springs was arrested for DUI and had a blood alcohol level that was three times the legal limit, according to the Pinellas County Sheriff's Office. 
After colliding into another car and swerving in and out of lanes, deputies said they had to use one of their marked patrol cars to "make contact" with the suspected DUI driver's vehicle to bring it to a halt. 
Around 7 p.m. Sunday, deputies said they received a report of a woman driving recklessly on the Dunedin Causeway. The 911 caller described a silver Honda Insight was driving west on Causeway Boulevard, and failing to remain in one lane. The caller followed the vehicle, reporting the Honda nearly struck multiple cars head-on, almost drove into a guardrail, and almost hit a pedestrian near Honeymoon Island State Park, according to officials.
Deputies arrived in the area, and noticed the Honda heading eastbound on Causeway Boulevard, away from the state park. They said they activated their emergency lights and siren, and attempted a traffic stop, but the driver of the Honda did not stop.
Officials said the Honda driver crossed over the center yellow line, and nearly collided with another deputy.
They said the driver crossed the center yellow line, again, and struck a 2010 Mercedes Benz GL420, driven by a 59-year-old man. His passenger, a 54-year-old woman, was taken to a hospital with non-life threatening injuries. Officials said the driver of the Mercedes was heading in the same direction as the Honda.
One deputy struck the back of the Honda using her marked Chevrolet Tahoe cruiser, causing the Honda to come to a complete stop. A second deputy parked his marked cruiser in front of the Honda. 
Deputies said the driver, Deborah Gillies, was the only occupant inside the Honda. They said the Tarpon Springs woman had bloodshot and watery eyes, and she had an odor of an alcoholic beverage coming from her mouth.
She submitted a breath sample, which showed she had a BAC of 0.256 and 0.265, deputies said. During an interview, they said she admitted to drinking alcohol earlier in the day. 
Gillies was taken to Pinellas County Jail, and faces several charges including DUI and reckless driving with property damage.