Election officials begin recount in governor, senate races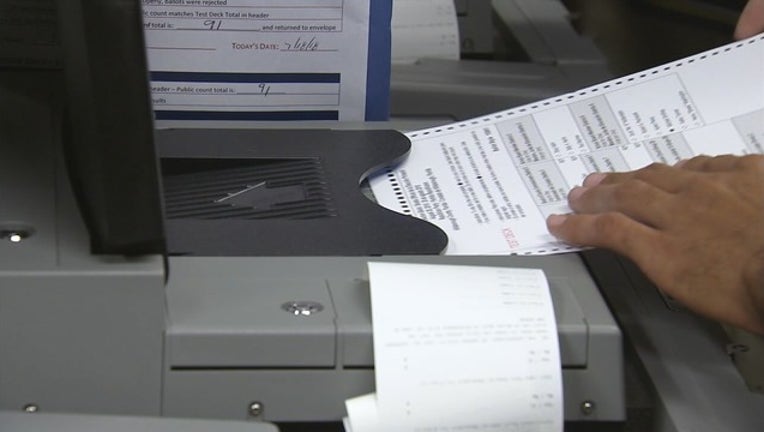 article
TAMPA (AP) - Tampa Bay area elections officials began a state-ordered recount of ballots in two major races on Sunday.
The Florida secretary of state ordered the recounts Saturday, an unprecedented step for the two flagship races in a state that took five weeks to decide the 2000 presidential election. Secretary of State Ken Detzner's office said it was unaware of any other time either a race for governor or U.S. Senate in Florida required a recount, let alone both in the same election.
Florida's counties can decide when to begin their recounts, but must complete them by 3 p.m. Thursday. Elections officials in two large counties in the Tampa Bay area -- Pinellas and Hillsborough -- began recounts Sunday morning. 
Unofficial results show that Republican former U.S. Rep. Ron DeSantis led Democratic Tallahassee Mayor Andrew Gillum by less than 0.5 percentage points, which will require a machine recount of ballots. In the Senate race, Republican Gov. Rick Scott's lead over Democratic incumbent Bill Nelson is less than 0.25 percentage points, requiring a hand recount of ballots from tabulation machines that couldn't determine which candidate got the vote.
Scott's campaign and the Republican National Committee issued statements saying Gillum and Nelson should give up and decline the recounts. 
Scott said Sunday that Nelson wants fraudulent ballots and those cast by noncitizens to count, pointing to Nelson's lawyers objecting to one provisional ballot being rejected in Palm Beach County because it was cast by a noncitizen. 
"He is trying to commit fraud to win this election," Scott told Fox News. "Bill Nelson's a sore loser. He's been in politics way too long." 
Both the state elections division, which Scott runs, and the Florida Department of Law Enforcement have said they have found no evidence of voter fraud. 
The recount opens against a backdrop of political tensions. President Donald Trump on Saturday tweeted without evidence that the elections were being stolen. Angry protesters gathered at an elections office in Broward County on Saturday, waving signs and shouting with bullhorns.
"Let me say clearly, I am replacing my words of concession with an uncompromised and unapologetic call that we count every single vote," he said, adding that he would accept whatever outcome emerges. He did not mention the recount in his Sunday morning tweets. 
In a video statement released Saturday, DeSantis said the election results were "clear and unambiguous" and that he was preparing to become the state's next governor. He also thanked the state's supervisors of elections, canvassing boards, and the staffs for "working hard to ensure that all lawful votes are counted." 
"It is important that everyone involved in the election process strictly adhere to the rule of law which is the foundation for our nation," he said.
In the Senate recount, Scott implored the state's sheriffs to "watch for any violations and take appropriate action" during the recount.
Scott and his supporters, including Trump, have alleged that voter fraud is underway in Democratic-leaning Broward County, where the Republican lead has narrowed since Election Day. The state's election division said Saturday that its observers in Broward had seen "no evidence of criminal activity."
The scene recalled the 2000 presidential recount, when it took more than five weeks for Florida to declare George W. Bush the victor over Vice President Al Gore by 537 votes, and thus giving Bush the presidency.
Florida was mocked for the way it handled the infamous 2000 recount, especially since there was no uniform process then on how to proceed. That has changed, with the Legislature passing a clear procedure on how a recount should be conducted.
Florida is also conducting a recount in a third statewide race. Democrat Nikki Fried had a 0.07 percentage point lead lead over Republican state Rep. Matt Caldwell in the race for agriculture commissioner, one of Florida's three Cabinet seats.