Fallout from Delta cancelations continue at TIA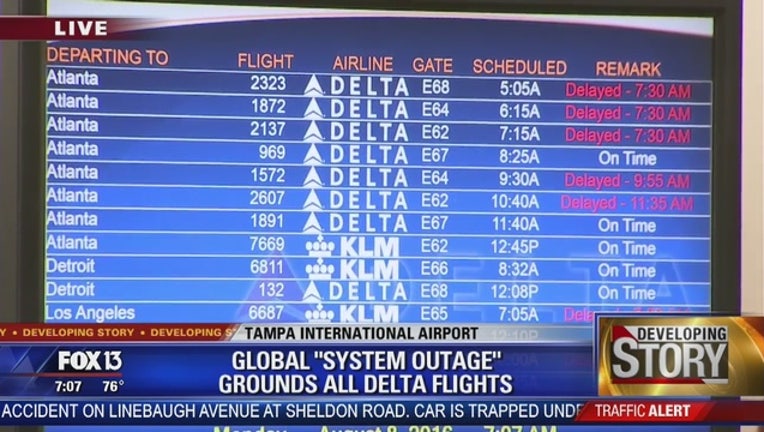 TAMPA (FOX 13) - Ten flights were canceled and 22 were delayed at Tampa International Airport as Delta struggled to work its way back from a computer outage that canceled more than 2,000 flights since Monday.
"I had to make phone calls to people," said Gary Bernstein, whose flight from TIA to LAX was cancelled Wednesday night. "I just pushed (my appointments) back, and I'll see them in the morning."
Marissa Matchinski's flight was delayed.
"It should be taken care of by now," she said of the outage.
Last month, a computer outage forced Southwest to cancel a similar number of flights.
The Wall Street Journal reports the problems "raise questions about whether four recent airline mergers have built companies too large and too reliant on old systems that date from the 1990s."
"I would think the level of urgency is quite high," said Douglas Kidd of the National Association of Airline Passengers.
Delta has reportedly spent $150 million this year alone on upgrading its systems, but Kidd says it's unacceptable that part of delta's backup system also failed. 
"I certainly think that federal regulators have to look at the situation and ask the airlines some rather pointed questions about how something like this could happen."
Delta is offering $200 vouchers, after seeing the number of Wednesday flights they predicted would be cancelled, grow from 90 to more than 300.
"I fly a lot," said Bernstein. "Probably only one out of a hundred flights gets canceled. I have learned to roll with the punches." 
Another consumer group, "Flyers Rights," told FOX 13 News they would be calling on the department of transportation to allow stranded flyers to use tickets during outages on other airlines.
Delta said in a statement that they are working to restore normal service, and that, "As of 4:30 p.m. ET Wednesday, Delta had canceled 317 flights today, none in the last hour. Of 3,100 flights that have departed during the day, about 2/3 left within 30 minutes of their scheduled departure time."