Shooter, intended shooting target both sought after young mother killed in front of children
ST. PETERSBURG, Fla. - The family of a young mother who was gunned down in front of her two children is pleading for the public's help to find the shooter, as well as the man police believe was the intended target of the shooting.
K'Mia Simmons, 21, and her two children were riding in a car with K'Mia's boyfriend and the father of her children, Praise Lovett, Jr., when a gunman in another car ambushed them in the 1800 block of 22nd Street South.
St. Petersburg Chief of Police Anthony Holloway said a bullet narrowly missed the 2-year-old in the back seat.
"The bullet went right through the booster seat, so it was probably the position of the baby, that's the only reason why that baby is alive today," Holloway added.
Linda Simmons, K'Mia's mother says her daughter used her body as a shield to protect her 1-year-old, who was sitting in K'Mia's lap.
The kids were not hit, but their mother later died at a hospital.
PREVIOUS: St. Pete police search for suspect who fatally shot young mother in front of children
"When all of that took place, she was a real mom. She covered her baby with her body to make sure nothing happened to that baby," a tearful Linda Simmons told FOX 13. "I'm begging you all, I'm pleading with you all to please come forward."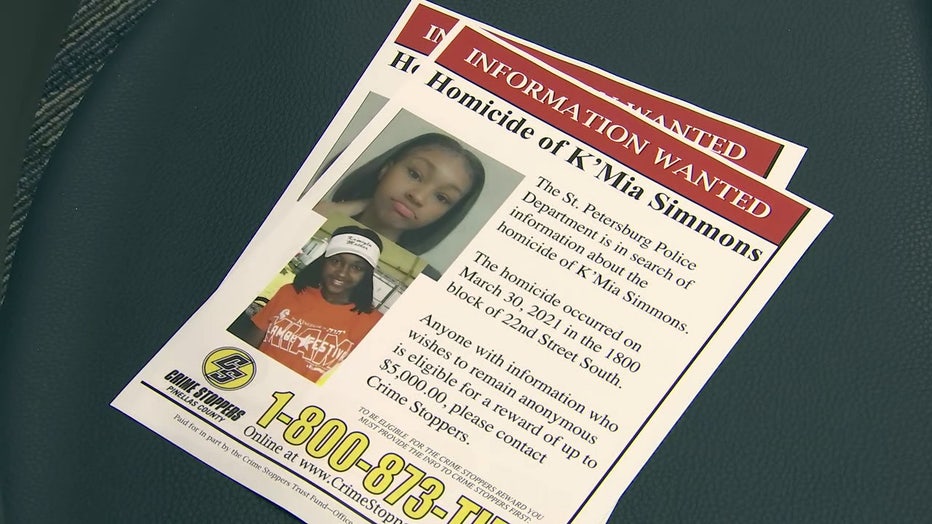 Now, detectives need help identifying the shooter and locating Lovett. They say after the shooting, he grabbed the kids and dropped them off at a family members' house. No one has seen or heard from him since.
Lashawn Lester, K'Mia's sister wants Lovett, known to some as PJ, to come forward.
"You're not a man. You're a coward because any real man you wouldn't have left my sister to die on the streets," Lester said as she broke down in tears.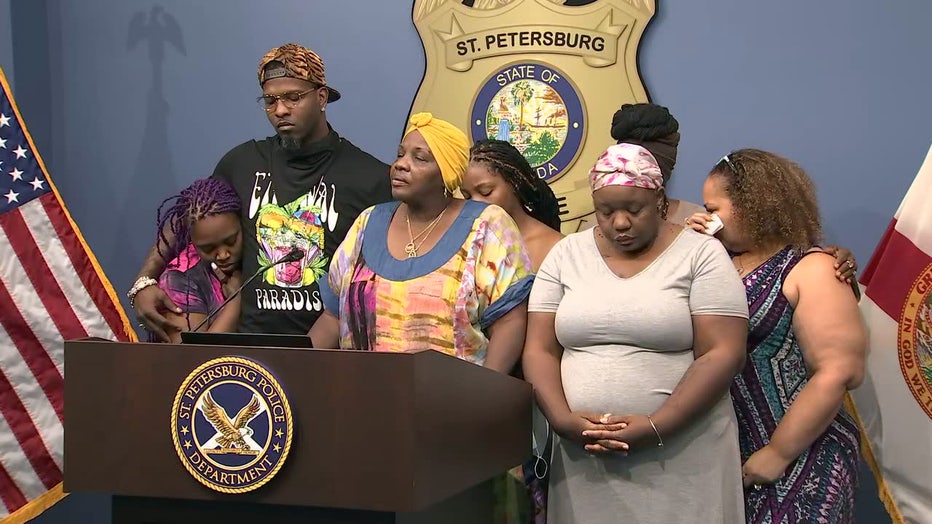 Lester says she is thankful the children weren't hurt physically, but the emotional scars are already setting in.
"We can't even get our 1-year-old niece to bed or to nap, she cries for hours for her mom," Lester said. "We're hurting as a whole family, but it's two beautiful little girls that this is going to affect for the rest of their lives…My 2-year-old niece had to watch her mom die."
RELATED: Suspect arrested in road rage shooting that killed Pennsylvania mom of 6
Anyone with information on the shooting is asked to call St. Petersburg Police at 727-893-7780, or call Crime Stoppers of Pinellas at 800-873-TIPS. You may be eligible for a reward of up to $5,000.