FDA warns against teething jewelry after child strangulation, death reports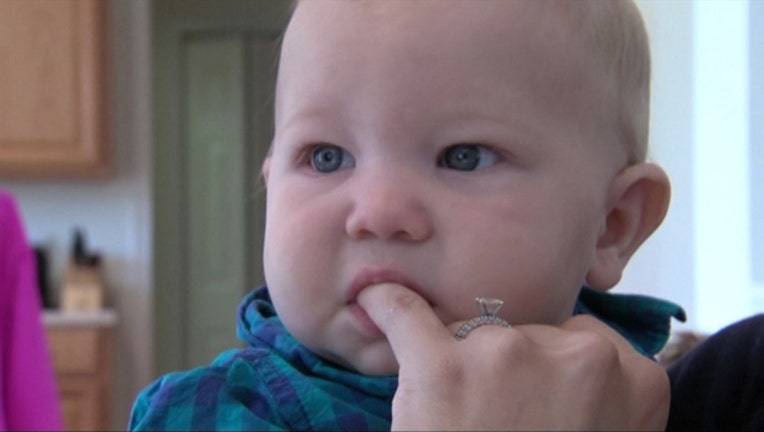 TAMPA, Fla. (FOX 13) - The Food and Drug Administration (FDA) is warning parents about colorful teething products that look like jewelry, but can actually be hazardous to babies, causing serious injuries, and, in one case, death.
The products are marketed as necklaces, bracelets and other jewelry that can be worn by either the adult or child. They are meant to be fashionable but durable enough for a baby to grab onto and put in their mouth to sooth their sore gums, but the FDA says otherwise, according to an alert posted Thursday on the FDA's website.
Federal officials said the popular "jewelry" can cause choking, strangulation, injury to the mouth, infection and death. The two big concerns are that the necklaces can break and the baby could swallow or choke on one of the beads, or that the necklace ends up wrapped around the baby's neck. 
The FDA has received reports of a death and series of injuries connected to the jewelry. An 18-month-old was strangled by a teething necklace while napping. They urge health care providers to discourage the use of the teething jewelry while talking to parents.
"The FDA is closely monitoring adverse event reports associated with teething jewelry and is committed to protecting public health and assuring the safety of children and others," the alert said. "The FDA will update this communication if significant new information becomes available."
Instead of purchasing the teething jewelry, the American Academy of Pediatrics recommends rubbing inflamed gums with a clean finger or using a teething ring made of firm rubber.
If your child is younger than two years old, the FDA suggests avoiding use of some of those teething creams and Benzocaine gels marketed for gun relief. The Benzocaine can actually reduce the amount of oxygen in the blood stream, which can cause a life-threatening condition in babies.
Also, ask your child's doctor for suggestions.