Lakeland drive-by shooting: 5 suspects, 2 persons-of-interest named by federal officials
LAKELAND, Fla. - Four suspects have been arrested and one is dead after a drive-by shooting in Lakeland that injured 11 people, two of which are still in the hospital.
But there are two people deputies and officers still need to interview, and they asked for the public's help to find them.
During a press conference at the Lakeland Police Department, U.S. State Attorney Roger Handberg, State Attorney Brian Haas, Chief Sam Taylor, and Polk County Sheriff Grady Judd announced the arrests of a man believed to have gotten rid of the vehicle used in the drive-by, a teen who was allegedly in the vehicle, and two others.
The first arrest was 26-year-old Booker Green. He has been charged with tampering with evidence for allegedly trying to get rid of the car that was used in the shooting. 
Lakeland PD Chief Taylor said the vehicle was registered to another suspect in the shooting and the plan was to have it destroyed at a junkyard. Taylor said officers found the vehicle "just in time" to prevent it from being destroyed.
Federal charges were also filed against two other men and one juvenile.
Nicholas Q. Hansen is charged with possession of ammunition and is being held without bond in Tampa. Marcus D. Mobley, Jr. faces possession of ammunition and firearms charges, and is also being held without bond in Tampa. Each faces up to 15 years in federal prison.
Officials said Mobley was the registered owner of the vehicle that was used in the shooting. 
The juvenile, a 15-year-old, is charged with felonies related to firearms and was allegedly in the car when the shooting happened.
There are still two men who police say need to be interviewed. They do not face charges. Brent Johnson, III and Marquez Green are considered persons of interest in the case. Anyone who knows their whereabouts should call local law enforcement.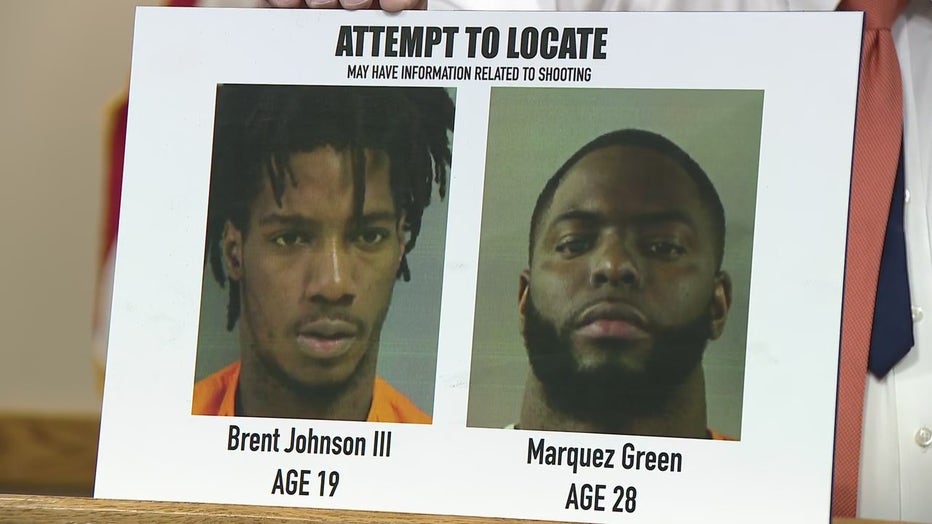 Investigators would like to interview Brent Johnson, III and Marquez Green in connection with a drive-by shooting in Lakeland
A fifth suspect was on investigators' radar, but he died during an incident in Winter Haven. 21-year-old Alex Greene, from Eagle Lake, is believed to have provided modified weapons to the shooters. 
Last week, detectives said the Lakeland Police Department, ATF, and the Florida Department of Law Enforcement were conducting surveillance on Greene when he jumped into a white Silverado pickup truck and fled. 
That's when Lakeland police officers joined the pursuit. Police Captain Eric Harper performed a PIT maneuver on the truck, officials said. Greene jumped out of the vehicle, ran into traffic, carjacked an elderly woman, and began driving the woman's car toward Harper.
Captain Harper then fired six shots, investigators said. Greene came out onto Havendale Boulevard, weaved through a flowerbed, and crashed the car into a building.
Following Greene's death, Lakeland Police Chief Sam Taylor said, "I feel comfortable that we have very good leads" on the other three suspects. 
MORE: Polk sheriff: Suspect believed to be involved in recent drive-by shooting shot, killed by officer
The shooting occurred in the middle of the day on Jan. 30.
It happened along the 900 block of North Iowa Avenue, North of the intersection with Plum Street. 11 people were hurt in the shooting including two people left in critical condition. Investigators said four men in a dark blue Nissan Altima with paper tags rolled down the car's tinted windows and opened fire on both sides of the street.
Witnesses told police the car then raced north before turning east on Memorial Boulevard. Within 24 hours of the shooting, officers located and secured the car in west Lakeland. From there, the department has been working with the FBI, the Department of Homeland Security, the FDLE and the Polk County Sheriff's office to process the vehicle and the evidence found inside.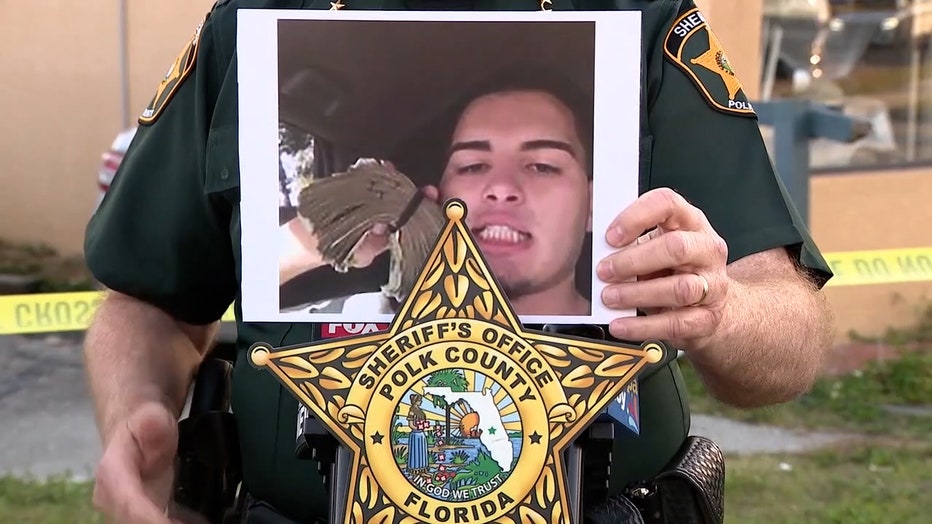 Photo of Alex Greene is held by Sheriff Grady Judd during a press conference.
RELATED: Lakeland police believe 4 suspects involved in drive-by shooting that wounded 11
That night, Chief Taylor expressed shock and grief for his community, saying he'd never seen a case like this. 
"This is something that doesn't happen in Lakeland," Taylor told reporters on January 30. "I've been here 34 years … and I can tell you I have never worked an event where this many people have been shot at one time. Ever."