Florence evacuee receives kindness from former Florida evacuee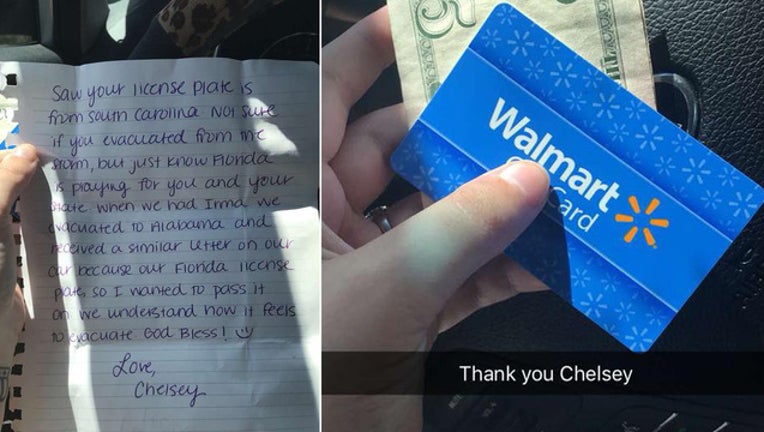 article
SARASOTA, Fla. (STORYFUL) - A woman who was forced to evacuate her home in South Carolina due to Hurricane Florence received a heartwarming gift from a Good Samaritan in Sarasota who knows what it's like to evacuate. 
Ashleigh Gilliland shared the photo on Facebook of a Walmart gift card and a letter from someone named "Chelsey" that was left on her car windshield outside a restaurant in Sarasota. 
"This just made my day," Gilleland posted, "I'm so happy to know there are still great people in the world."
In the letter from Chelsey, she said she noticed Gilleland's South Carolina license plate and told her that Florida was praying for her state. "When we had Irma, we evacuated to Alabama and received a similar letter on our car because our Florida license plate," she wrote. 
Chelsey said she wanted to pass it on because she knows how it feels. "Always pay it forward! Thank you Chelsey, I wish I could thank you in person," Gilleland wrote.
The photo has since been shared thousands of times on Facebook.