Florida governor's race now headed for recount, too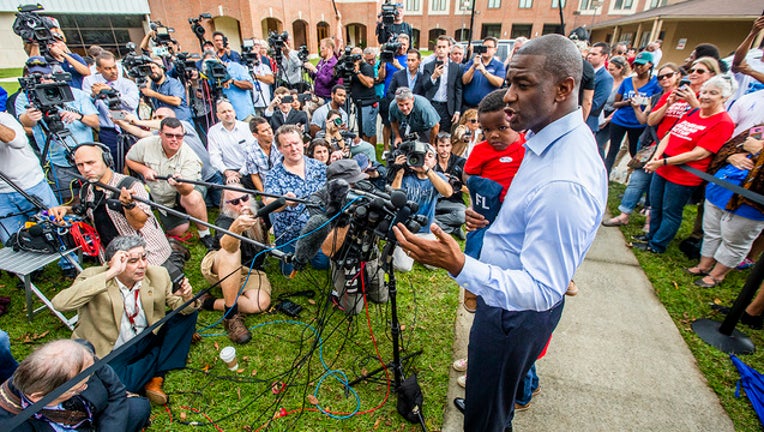 TAMPA (FOX 13) - As votes continue to be counted in South Florida, the margin of victory for Ron DeSantis has shrunk to less than one-half of one percent -- which should trigger an automatic recount in the hotly contested gubernatorial race.
The latest unofficial returns show Republican Ron DeSantis ahead with 4,069,451 votes to 4,030,936 for his Democratic opponent, Andrew Gillum.  The margin has shrunk to 38,515 – that's 0.469 percent of the total votes cast in the race.
LINK: See the live vote totals
Florida law requires a recount in races in which the winning margin is 0.5 percent or less, unless the trailing candidate says in writing that he or she doesn't want a recount. 
Gillum conceded the race Tuesday night, but in a statement released Thursday, his campaign said that they had underestimated the ballots that still needed to be counted:
A recount was already anticipated in two of the state's other high-profile races.  Outgoing governor Rick Scott had claimed victory over incumbent Bill Nelson in the Senate race, but Nelson has yet to concede or even make a public appearance since Tuesday. Scott's margin of victory in that showdown was at only 0.21 percent Thursday afternoon.
"When, at the end of the day, all eligible voters have their votes counted and counted accurately, the fundamental truth that we're going to learn is that more voters voted for Sen. Nelson than for Gov. Scott," stated Marc Elias, a lawyer representing Nelson's campaign.  "There isn't anything that Gov. Scott and his billions of dollars is going to be able to do about that."
In the race for commissioner of agriculture, Democrat Nikki Fried has now taken a slim lead over her Republican opponent, Matt Caldwell.
Full election results are not officially due from each county until Saturday, and some counties are still tabulating votes ahead of that deadline.  That includes Broward County, which tends to skew heavily Democratic.
Republicans were already crying foul over Broward's apparent lack of transparency in the process. Sen. Marco Rubio blasted the supervisor of elections for "annoying incompetence."
"It has opened the door for lawyers to come here & try to steal a seat in the U.S. Senate & Florida Cabinet," Rubio tweeted.
Canvassing boards normally conduct the recount by running ballots through vote tabulation machines, but a margin of less than 0.25 percent requires a recount by hand, according to state law.