Florida gun shop owner declares store 'Muslim-free' zone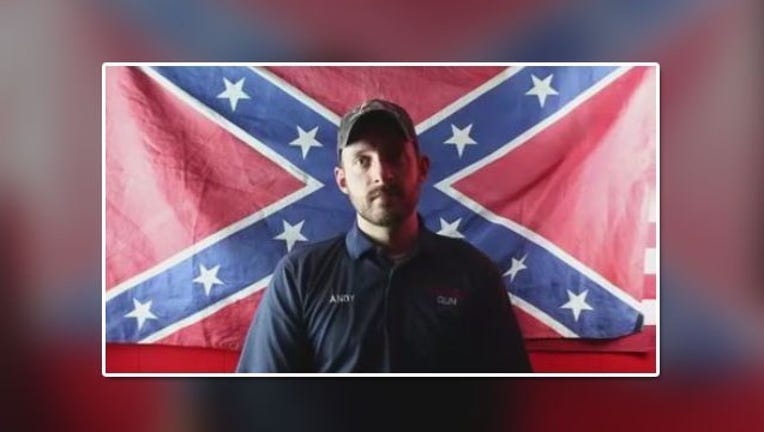 article
The video starts out with a man standing in front of the Confederate flag. "We're in battle, patriots," he says.  
He is Andy Hallinan, 28, a self-proclaimed high school dropout from Massachusetts turned accidental gun shop owner.
Hallinan owns Florida Gun Supply in Inverness, and a recent video on the company's Facebook page has attracted a lot of attention. "I meant to be offensive. I meant to stir debate," he told FOX 13.
Posted after the recent shooting deaths of five U.S. servicemen in Chattanooga, Tennessee, it's the wording in Hallinan's latest video that's stirring the debate. "I have a moral and legal responsibility to ensure the safety of all patriots in my community, and so effective immediately, I'm declaring Florida Gun Supply as a 'Muslim-free zone.' I will not arm and train those who wish to do harm to my fellow patriots," he said.
It's a sentiment not shared by everyone.
"As a combat vet who fought side by side with the Muslim community, I know the difference between extremism vs. those who want a peaceful life in America," said Jeff Berman. "There are millions of Muslims in [the] U.S., so discriminating against them generally, is wrong."
Declaring his shop a 'Muslim-free zone' has elicited comments from both those who agree and disagree and that was the point, Hallinan said. "My goal is to offend people so they start to realize that the political correctness is a threat to our civilization," he said. "We're seeing these Jihadis get bolder and bolder and bolder the more politically correct we get," he said.
Hallinan opened the gun supply store not too long after the deadly theater shootings in Aurora, Colorado in 2012, a sort of wake-up call for him. "Something snapped in my soul and I've been on a quest," Hallinan said. A quest, he says, to arm and train as many people as he can to make Central Florida a safe place to live.
Hallinan sells guns, holds concealed weapons classes and hosts survival training classes at his store, but said he has no problem turning people away whether they are Muslim or not. He also said he has not yet actually turned away a customer for being Muslim and understands it's nearly impossible to enforce. "I'm not going to say to him, 'Hey, are you a Muslim?'"
Instead, Hallinan said he turns 2-3 people away a week based on whether he believes they would a threat to the community with a firearm.
Though he said he understands the majority of Muslims are not violent extremists, Hallinan said he believes Islam's core foundation is evil. But the executive director of the Council on American-Islamic Relations in Tampa, Hassan Shibly, said Hallinan's statement about having a "Muslim-free Zone" is misinformed and hurtful.
Hallinan believes that "to be a devout Muslim you want to kill people and honestly it couldn't be further from the truth," said Shibly, who spoke to Hallinan Monday afternoon.
Denying someone service based on their religious beliefs is illegal, but Shibly said legality is the least of his concern. "He knows very little about Islam and Muslims and I hope we can use this an opportunity. I think we'll change some minds and hearts through conversation and not allow our enemies to divide us," he said. "Hopefully we build stronger unity amongst a wider group of people that share his similar views...that's what we want out of this ultimately."