FOX 13 teams up with Metropolitan Ministries for $13 for 13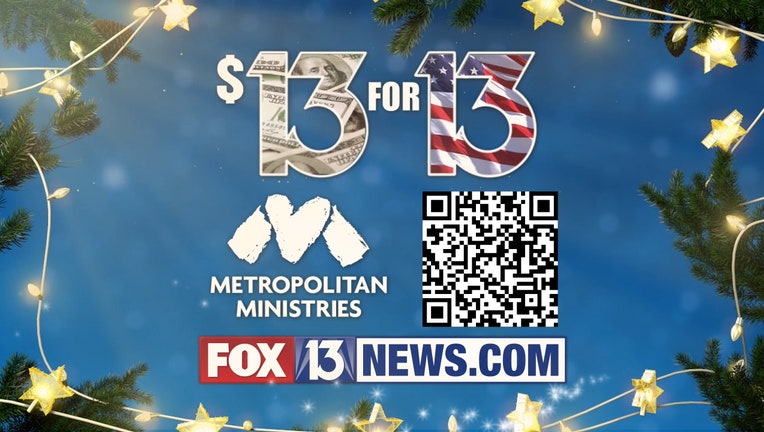 article
TAMPA, Fla. - You can help make the holiday season brighter for thousands of struggling families across the Tampa Bay area. 
FOX 13 is teaming up with Metropolitan Ministries once again for the $13 for 13 campaign. 
From Giving Tuesday, Nov. 29, through Dec. 18, a $13 online donation will be matched to help provide food and toys for families in need.
To donate to $13 for 13, go to: https://secured.metromin.org/page/46322/donate/1?ea.tracking.id=TVURLMM221101
To donate food and toy items at donation drop-off locations: https://www.metromin.org/holiday-central/drop-off-locations/
To register for help: https://www.metromin.org/holiday-central/need-help/
To host a drive: https://www.metromin.org/holiday-central/ways-to-give/
For information about the most needed items: https://secured.metromin.org/page/33913/shop/1?_ga=2.164100863.1138649087.1669649917-564291078.1669649917
For information about volunteering: https://www.metromin.org/holiday-central/volunteer/