Westbound Gandy Blvd. reopens after jet fuel spill
TAMPA, Fla. - Tampa police said Wednesday that it could take several days to repair and reopen the westbound lanes of Gandy Boulevard between Westshore Boulevard and the Gandy Bridge in South Tampa after a fuel tanker overturned Tuesday, spilling jet fuel across the roadway. However, by Thursday night, crews had repaired enough of the roadway to reopen it to drivers.
The busy south Tampa intersection came to a standstill after thousands of gallons of hazardous liquid poured from the tank. The fuel can be corrosive to asphalt so officials say it must be replaced before anyone can drive on the section of road again. 
"The hydrocarbon product that leaked out will cause damage to the asphalt surface," explained Tampa Fire Rescue Captain John Bogush. "It will cause softening and it'll degrade overtime."
More than 6,000 gallons of fuel spilled from the tanker onto Gandy Boulevard on Tuesday. 
Tampa Fire Rescue, Tampa Police and the Florida Highway Patrol worked to contain the fuel and protect it from any source of ignition. 
Miles of roadways around and above the intersection of Gandy and Westshore boulevards were shut down for hours on Tuesday. People inside nearby businesses were asked to shelter in place while firefighters coated the truck, fuel and nearby gas station pumps with flame suppressing foam.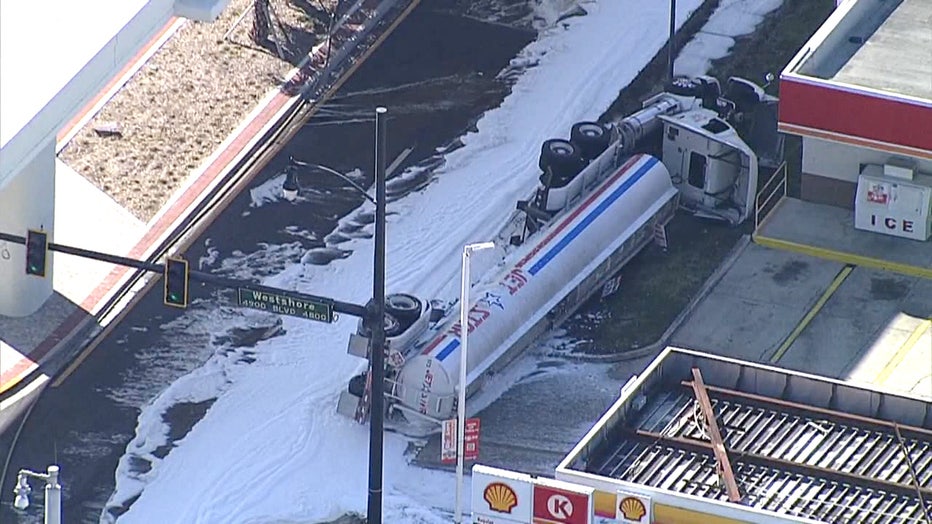 "You're talking about thousands and thousands of gallons and the consequences of that igniting are pretty significant. That kind of fire can actually create enough radiant energy to cause things to catch on fire several hundred feet away so it's paramount that we keep that from happening," said Bogush. 
In addition to preventing ignition, firefighters also worked to keep fuel from draining into nearby sewers.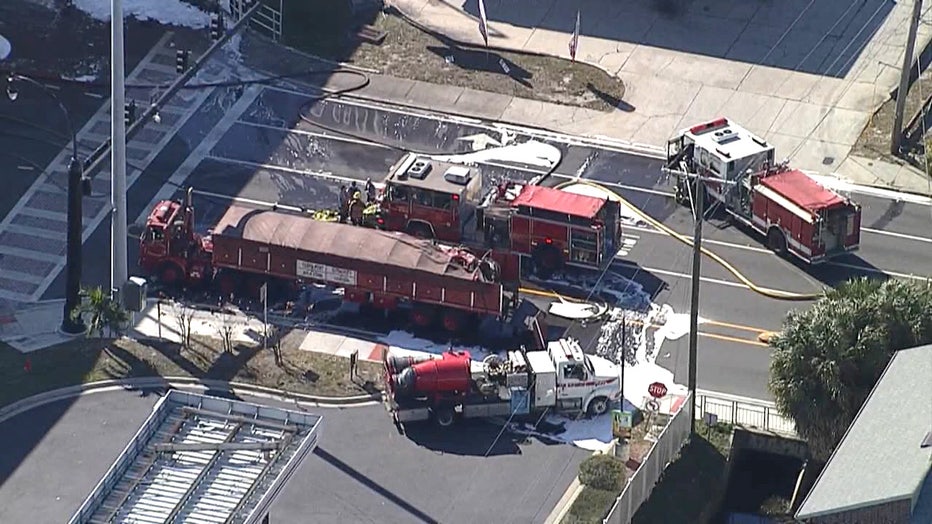 "They deployed shovels and actually started to dig out the side of the roadway and use soil to dam and dike the gutter systems and keep [the fuel] confined as much as possible," said Bogush. "We have a storm water drain system here and it's imperative that were keep these kinds of products out of that environment. The stormwater system can go into the bay and we want to try and limit that."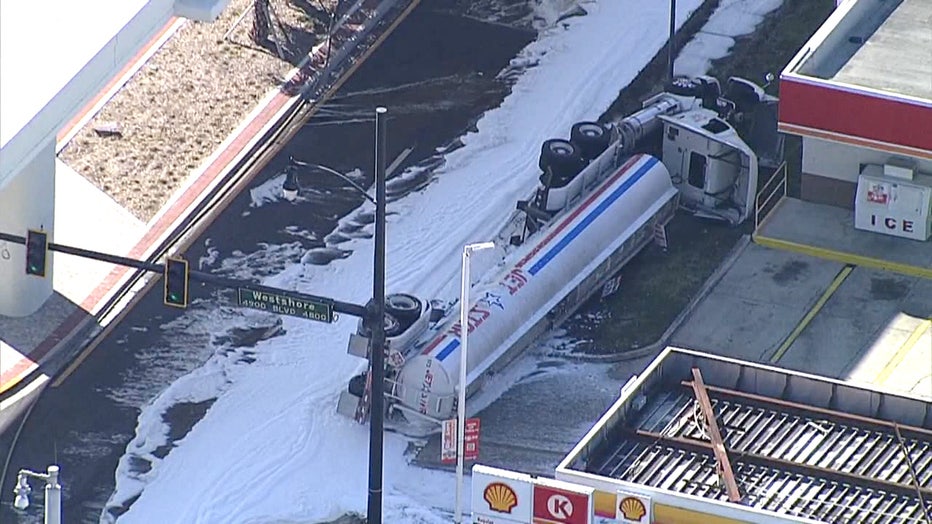 Tampa Fire Rescue is now working with the EPA and US Coast Guard to clean up fuel that spilled into a nearby creek. A Coast Guard spokesperson estimated a couple hundred gallons made its way into the creek, which connects to Tampa Bay. Crews could be seen using skimmer trucks and absorbent pads on Wednesday in order to clean up the creek.