"Giant Unity Flag" campaign launched amid local Confederate flag debate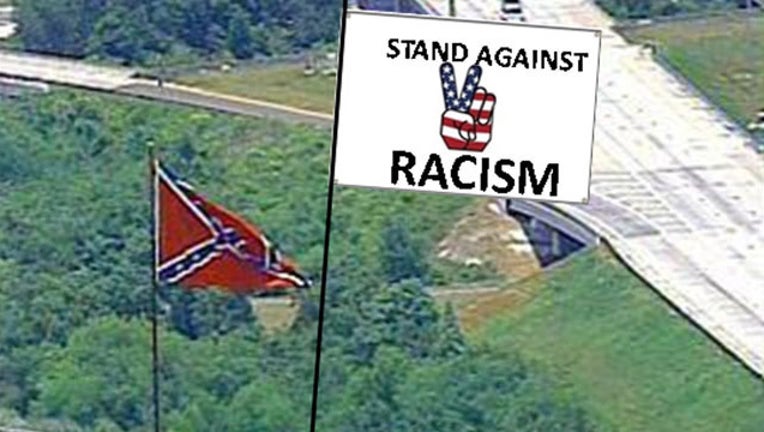 article
In the wake of the church shooting in South Carolina, the heated debate over the Confederate flag continues.
Some of the nation's largest companies, and everyday individuals alike, are distancing themselves from the Civil War-era symbol after the shooting suspect, Dylann Roof, was seen posing with it in a photo.
Here in Tampa, the controversy over the flag has centered on the large one that flies high above the interchange at I-4 and I-75.
Now, a Kickstarter campaign has been launched to do something about it.
The campaign seeks to fly a "Giant Unity Flag" near the existing Confederate flag.
According to a diagram pictured on the campaign's website, the flag would be larger and taller than the Confederate flag, and would display a star-spangled peace sign along with a message that reads "STAND AGAINST RACISM".
"Every day thousands of tourists and community members are offended by a giant flag that does NOT represent our community", a caption below the photo reads.
Harmony Branch, the group behind the campaign, is now seeking to raise $65,000 by July 25 to install the flag:
$20,000 to purchase the land
$35,000 to erect the pole
$4,000 to create the flag
$300 for the building permit
$5,700 for an opening ceremony
With the Unity Flag, the group hopes to "share a message with visitors and our community that reflects the real nature of our area."
Click here to learn more about the campaign.