Girl, 10, reports suspect offered candy, ice cream to lure her into vehicle, deputies said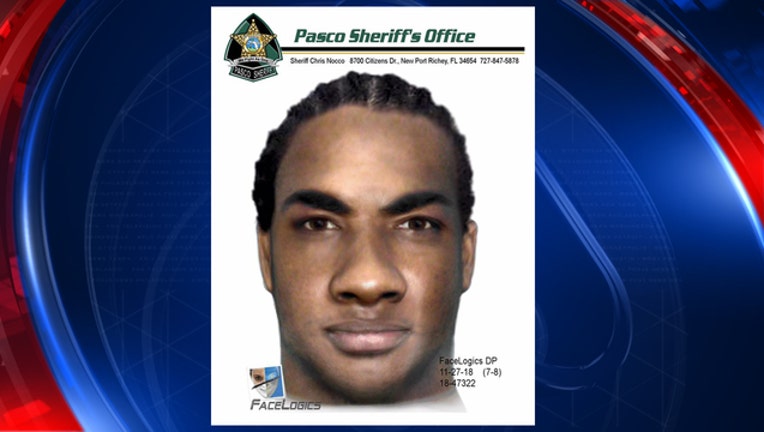 MOON LAKE (FOX 13) - Pasco County deputies have released a computer-generated composite drawing of a suspect believed to have tried to abduct a 10-year-old girl.
Investigators issued a safety alert about the incident Monday evening. The young girl reported an unknown man pulled up in a tan, four-door vehicle with no license plate, according to officials. The alleged encounter occurred at the intersection of Banbury Avenue and Cardy Street in the Moon Lake area. 
According to the report, the suspect told the girl to get into his vehicle and that he was friends with her mother. He also said he will take her to get ice cream and candy, officials said. 
The victim described the suspect as a black male with medium skin tone and possibly in his 20s, deputies said. He also has black hair, brown eyes, cornrows pulled back into a "ball," and facial hair "stubble."
He was seen wearing a red tank top, black shorts, and gold chains with a dollar sign pendant. The description included that he had a tattoo on his upper right arm of a naked woman.
Deputies said the girl warned the suspect she would call 911 if he didn't leave her alone, and he drove away heading westbound on Banbury Avenue. Anyone with information on the suspect is asked to call the Pasco Sheriff's Office Crime Tips Line at 1-800-706-2488, reference case #18-47322.