Gone: The $1 Disney ticket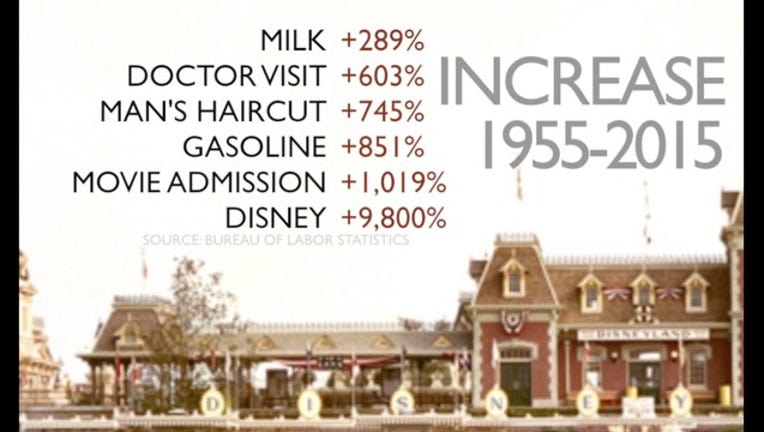 article
Forgive me and my calculator, Mr. Mouse.
The nostalgia of Disneyland's magical 60th birthday faded a wee bit Friday, when I began to think about the price of a ticket then and now.
According to the Associated Press, admission to the Happiest Place on Earth was $1 for adults and $.50 for kids when the gates swung open on July 17, 1955. Numbers from the Bureau of Labor Statistics reveal that a ticket to the trailblazing new theme park was cheaper than a man's haircut ($1.42) or a visit to the doctor ($3.41).
Oh, how times have changed. Today, admission to Disneyland will run you $99 for adults and $93 for children.
The increase from $1, while drastic, seems natural— given the lapse of six decades, 11 U.S. presidents, and one space shuttle program (start to finish, no less). It's been 60 years, after all.
But when I compared it to the price increase of other items since 1955, Mickey's kingdom comes across as uncharacteristically greedy.
Our analysis shows that the price of a one-day adult ticket has increased by 9,800 percent over the past 60 years. Yes, 9,800 percent.
We initially assumed the cost of other consumer staples increased by a similar amount over the same six-decade span. We were wrong.
Disney stands out in our chart, which is based on the government's reporting of prices from 1955 and our collection on 2015 costs.
Only one related number we found today eclipses the 9,800-percent ticket price jump. And that is the increase in Disney stock since it began public trading. Walt Disney Co. shares have soared 15,229 percent since day one -- which wasn't actually until the 1970s.
One key factor could skew our comparison, though. The $1 admission in 1955 was just that: admission. By all accounts from the grand opening, rides were extra—which is not the case today. But even if you factor in with a few rides to the $1 "cover," it's evident the steep increase in the price of visiting Disneyland (or Disney World for that matter) has outpaced the increase in other consumer prices.
Ironically, its shares slipped a bit on Disneyland's big birthday.