Good Samaritan helps PSTA driver during medical episode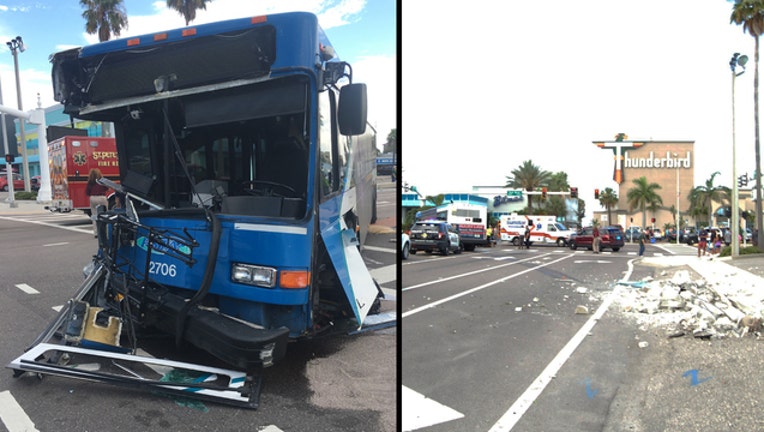 TREASURE ISLAND (FOX 13) - When a good Samaritan realized the bus driver of a PSTA bus was having a medical episode, he jumped on board preventing what could've been a lot of damage. 
On Wednesday morning, the good Samaritan, who Treasure Island police did not identify, witnessed the bus traveling erratically. Police said the transit bus was traveling westbound on 107th Avenue at 1st Street when it left the lanes and entered the eastbound lanes, driving in the wrong direction.
According to Treasure Island police, the PSTA bus jumped the sidewalk and traveled about 120 feet on it before crossing back over the eastbound lanes and back onto the westbound lanes. Then, it hit a concrete police, located on the north side of 107th Avenue, and then hit a median curb, and stopped near Gulf Boulevard. 
Before the crash, the good Samaritan noticed the bus driving erratically and slowly on the Treasure Island Causeway for nearly a mile as it merged onto 107th Avenue. Then, the concerned citizen saw the bus jump the northside curb at 107th Avenue and 1st Street. The bus stopped and the only passenger on board exited. That's when the citizen stopped his vehicle and exited.
He walked over to see if the bus driver was okay and started speaking to driver, and realized the driver was having a medical episode. Police said he noticed driver was attempted to drive away. So, the man jumped onto the bus and the driver accelerated continuing west in the eastbound lanes of 107th Ave.
The good Samaritan tried hitting the brakes but the bus driver was in the way. Treasure Island police said the driver was apparently unresponsive to the citizen's directions. He was able to steer the bus off of a sidewalk, back onto the road crossing several lanes before slamming into the concrete pole and median near Gulf Boulevard. 
When officers arrived, they found the bus driver awake but unresponsive to conversation. The PSTA driver was transported to a hospital for emergency care, and there is no word on the bus drivers condition.