Gov. Scott suspends Hernando commissioner facing prostitution allegations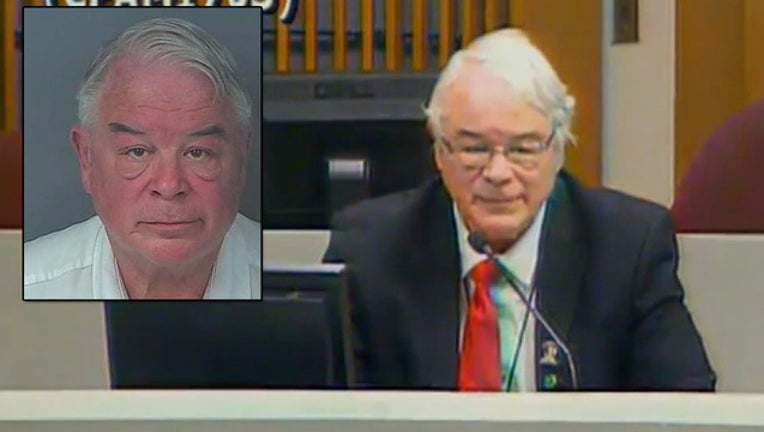 article
SPRING HILL (FOX 13) - In the middle of a prostitution scandal, a Hernando County commissioner's request for his own suspension was granted by Governor Rick Scott.
The governor issued an executive order of suspension on Thursday for Nicholas Nicholson, who was arrested on April 19 and accused of paying women for sex and operating a brothel. Just the day before, Nicholson sent a letter to Tallahassee asking the governor to suspend him until further notice.
"I was involved in circumstances that have unduly caused embarrassment to my loved ones, my friends and colleagues and my community," Nicholson wrote in his letter. "Please know that I remain totally devoted to the good of Hernando County and the State of Florida and look forward to hearing from you at your earliest convenience."
Nicholson added he began counseling. Under state statute, the governor can suspend any elected official for several reasons including neglect of duty or incompetence.
"The charges against Mr. Nicholson are disturbing and unbecoming of someone who is supposed to serve the citizens of Hernando County," according to a statement from the governor's office.  
The allegations against 71-year-old Nicholson came to light in February, when Hernando County deputies responded to his home for a domestic disturbance. When they arrived a woman named, Valerie Surette, told them she and her husband, Kendel, were arguing when he threw a screwdriver at her. Kendel was arrested for domestic battery.
However, deputies say they discovered other criminal activity. Valerie told them she met Nicholson last year while working as an exotic danger in Pasco County, officials say, and Valerie and Kendel soon ended up living at his home. 
She said that Nicholson told her, "You, your husband, and your dog are going to have nowhere to live. I will kick you out if you don't do exactly what I say," according to the Hernando County Sheriff's office. Deputies say other clients came to the home for sex, too.  
"It is in the best interests of the residents of Hernando County," says the governor's executive order, "and the citizens of the State of Florida, that Nicholson be immediately suspended from the public office he now holds." 
Nicholson was first elected as a Hernando County commissioner in 2012. FOX 13 reported in 2015 that he was accused of similar activities in 2012, with another woman who accused him of driving her to meet with drug dealers. At the time, he denied a Hernando County Republican party request to resign. In 2016, he was re-elected as a Hernando County commissioner.