Governor signs bill that targets hate crimes into law following Anti-Semitic incidents' in Florida
TAMPA, Fla. - Governor Ron DeSantis signed into law Thursday a bill that targets hate crimes following a series of recent anti-Semitic incidents' across Florida.
The law, which DeSantis made official during a trip to Israel, makes harassing or intimidating someone based on their religion or ethnicity a hate crime that can be prosecuted as a third-degree felony.
This law applies to all religions and ethnicities, but the bill's sponsors decided it was necessary about several anti-Semitic reports.
RELATED: 'There's hate out there': Anti-Semitic flyers placed outside South Tampa homes
"At a point that you start attacking individuals for their religion, you start intimidating specific individuals, you start harassing certain individuals, then that becomes problematic," said John Ellis, the chair of Tampa's Jewish Community Relations Council. "It's not really a question, is this really free speech anymore? This now is starting to fall into a realm where you may have a level of criminalization, and you're seeing this statute saying 'we in the state of Florida are not going to tolerate that type of activity.'" 
Throughout the state in recent years, there have been neo-Nazi demonstrations where people were harassed; swastikas were spraypainted or projected onto buildings, walls and roads; and pamphlets with anti-Semitic messaging have been tossed into yards in the Tampa Bay area.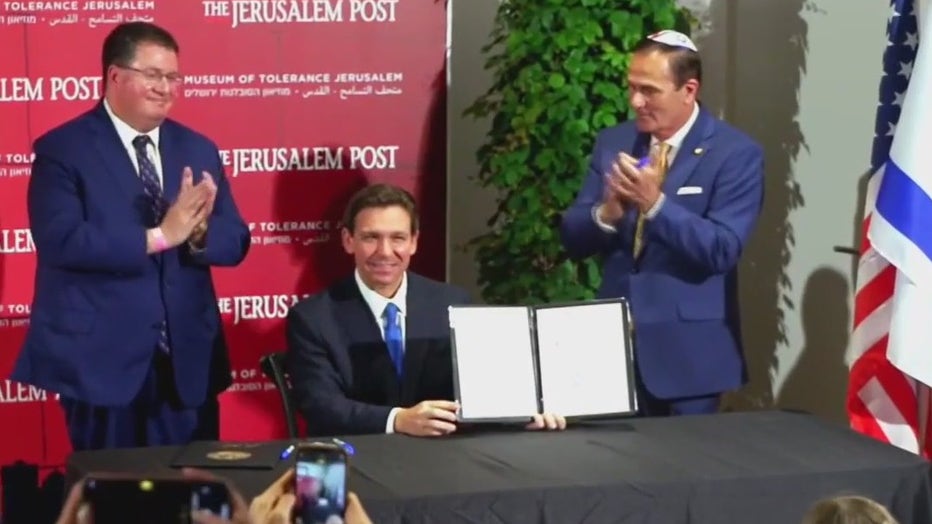 Lawmakers said these types of acts will now be considered hate crimes.
"We're called to stand up for the 672,000 Jews that call Florida home," said State Rep. Mike Caruso, R-Palm Beach County, one of the bill's sponsors. "I think all Floridians, especially those of the Jewish faith, have the right to quiet enjoyment in their neighborhoods and the right to practice their faith without reprisal or fear of harm."
READ: 'Hateful': Anti-Semitic flyers found outside hundreds of South Florida homes
"The only way to answer that is to make sure that on our law books, there are immense consequences for that type of action," added State Sen. Alexis Calatayud, R-Miami-Dade County, another sponsor of the bill.
According to the Anti-Defamation League, Florida had the fourth-highest number of anti-Semitic incidents last year.
In a statement to FOX 13, ADL-Florida said:
"ADL has tracked and reported on the troubling rise of antisemitism and extremism in Florida and called upon leaders to take action. The state legislature, in unanimously passing HB269, has sent an unequivocal message that bias-motivated actions targeting religious and ethnic minorities will not be tolerated in the Sunshine State. This is a major blow to antisemites and bigots who harass, intimidate and threaten our communities. ADL applauds the leadership shown by Rep. Mike Caruso, Sen. Alexis Calatayud and all of the sponsors and supporters of this effort, as well as Gov. Ron DeSantis for signing the bill into law."