Hermine, Matthew damages near $1.6-billion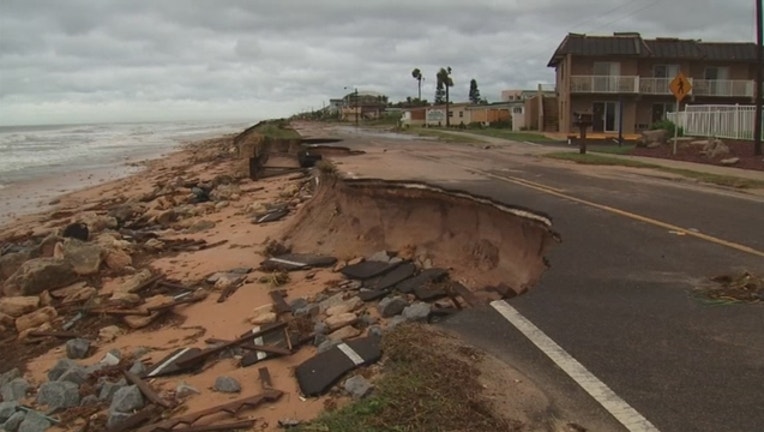 article
TALLAHASSEE (NSF) - Hurricane damages in Florida have reached at least $1.59 billion from the two storms that hammered parts of North Florida and the East Coast this year, according to the latest numbers from the insurance industry and the state.
The numbers don't include agricultural losses and some damages that local governments are handling without state assistance. Also, the director of the state's Division of Emergency Management said the numbers remain preliminary and depend in part on future state funding.
Still, the costs tied to Hurricane Hermine and Hurricane Matthew, for which the state expects to receive substantial reimbursements from the Federal Highway Administration and the Federal Emergency Management Agency, are the highest for disasters since the much more expensive 2004 and 2005 hurricane seasons, Division of Emergency Management Director Bryan Koon told members of the Senate Appropriations Committee on Thursday.
"That's to be expected. Hurricanes are our most expensive disasters," Koon said as he outlined damages to government entities.
Damages from Hurricane Hermine, which made landfall in a sparsely populated part of the Big Bend and swept through Tallahassee in early September, stand around $213.6 million. The total includes $147 million in individual property-damage claims that have been reported to the Office of Insurance Regulation.
The more-powerful Hurricane Matthew, which stayed offshore but caused damage Oct. 6 and Oct. 7 in Northeast Florida, clocks in at $1.376 billion.
By comparison the University of Florida's Bureau of Economic and Business Research has placed damages from the 2004 hurricane season, in which four hurricanes hit the state, at $45 billion.
The Matthew total includes 112,000 individual property-damage claims, representing $729 million in value. Volusia, Duval, Brevard, St. Johns and Flagler counties represented most of the claims.
The Matthew figure also includes $430.8 million in damages to government facilities and structures, including damage to a 1.3-mile section of Florida A1A in Flagler Beach that caused Gov. Rick Scott to order expedited repairs.
Koon said the state's share of storm-damage costs is expected to be offset by money from the federal government and local contributions.
Hermine is expected to directly cost the state about $9.6 million, from emergency protective actions to debris removal, with local government contributions reaching more than $5 million.
Matthew may require about $130.3 million from the state, a figure that includes $77 million being sought from the Legislature in 2017 for an estimated $217 million in beach, dune and park repairs from Duval through Indian River counties.
"First, we do want to focus on the immediate protections needed for structures, we want to look at projects that can be implemented in a timely manner," said Alex Reed, program administrator for the Department of Environmental Protection's Beach Management Funding Assistance Program. "The cost estimates are going to be refined as we get more data, and we identify the federal funding as local sponsors prepare their storm-repair plans."
The state expects to receive $90 million to $100 million from the federal government for projects to harden infrastructure from future disasters, Koon said.