Hillsborough promotes improved debris removal tracking, extended hours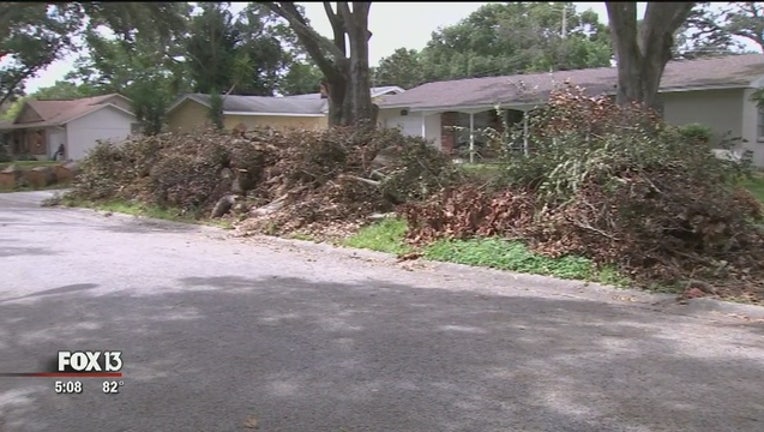 article
TAMPA (FOX 13) -  
Hillsborough County says contractors continue to work seven days a week to pick up debris left by Hurricane Irma and solid waste customers can check their debris collection status online with the county's debris tracking tool. 
The county says its tracking tool shows the progress of debris collection efforts and can help residents estimate when their debris may be collected.
View the tracking tool at HCFLGov.net/StormDebris.
Hillsborough County says it has extended the hours of operation at yard waste collection sites on Sunday, October 15 and Sunday, October 22 (for residential customers only) to dispose of yard debris.
The sites will be open from 7:30 a.m. to 5 p.m. and residents must show a valid Florida driver's license in order to use the free disposal sites.  
The locations include:
-Falkenburg Road - 346 N. Falkenburg Road in Tampa
-Northwest County - 8001 W. Linebaugh Ave. in Tampa
-South County - 13000 U.S. Highway 41 in Gibsonton
Residents can also take yard waste to the sites during normal business hours, 7:30 a.m. to 5 p.m. Monday through Saturday.
Solid waste customer service representatives are available to help residents at 813-272-5680.
 
The county asks residents to do the following in an effort to streamline debris collection and removal:
-Bag and bundle as much of your vegetative debris as possible.
-If bagged yard waste is not picked up during your regular weekly yard waste service, please report a missed collection at 813-272-5680.
-Keep bagged or container yard debris, household waste, bulk waste, and recyclables separate from large storm debris.
-Remember to place all large debris at the curb in the public right of way in front of the impacted residential property. Do not place debris in the roadway, on sidewalks or storm drains, or near fire hydrants, mailboxes, street signs, and light poles, or around other hazards to claw trucks.
-If you have larger items such as appliances or furniture that were damaged in the storm, please call (813) 272-5680 (Monday - Friday, 8 a.m. to 5 p.m.) to discuss disposal or collection options.