Holiday cocktail ideas for your guests
TAMPA, Fla. - Holiday parties at home are also an opportunity to flex your mixology skills.
If you're hosting, there are some fun holiday cocktail ideas that your guests might love.
Andrew Rahrig, a mixologist with Members Only Craft Cocktails, offered the following recipes:
The Poinsettia 
Ingredients
1/2 oz Orange liqueur (Cointreau recommended)
1 oz Cranberry + Pomegranate  Juice
Fill with chilled Champagne
Garnish: Sugared Cranberries
Directions
Skewer three sugared cranberries onto each cocktail pick, and set aside
Add Cointreau and juice to flute. Top with chilled Champagne
Garnish with cranberries, and enjoy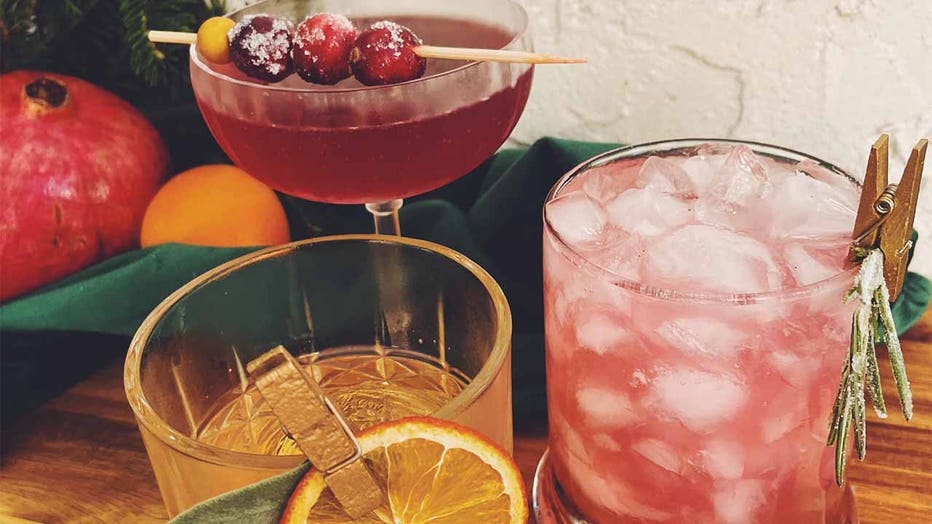 The Holiday Margarita 
Ingredients
2 oz Tequila
1/2 oz Cointreau
1 oz Lime Juice
1/2 oz Cranberry + Pomegranate Juice
3/4 oz Vanilla Bean Simple Syrup
Garnish: Frosted Rosemary
Directions
(Optional) Dip rosemary into a small amount of vanilla simple syrup, and allow to dry until tacky (approx. 20 mins). Place in a bowl, and dust with sugar until "frosted". Allow to dry.
Clip plain, or frosted rosemary to the edge of the glass.
Add all ingredients to shaker and fill with ice. Shake until chilled.
Fill glass with cracked ice, strain drink into glass, and enjoy!