Elsa regains hurricane strength ahead of Florida landfall
TAMPA, Fla. - Elsa, again a hurricane, is tracking north along Florida's west coast tonight. Despite its earlier strengthening, the storm has begun to look less impressive on radar as it nears the Tampa Bay Area.
Forecasters say Elsa strengthened despite strong wind shear and dry air, prompting a hurricane warning for much of Florida's west coast from Egmont Key to Steinhatchee River. This includes Tampa Bay, Pinellas County, and the coastal areas of Pasco, Hernando, and Citrus counties.
As of the Tuesday mid-evening update, the storm's winds had increased to 75 mph, just above hurricane strength. Elsa was 100 miles south of Tampa Bay, and the National Hurricane Center projects Elsa making landfall around the Big Bend area of Florida as a Category 1 hurricane Wednesday morning.
But by 10:30 p.m., the storm was nearly unidentifiable as a hurricane on radar, and the most intense squall lines had begun to lose strength as the storm moved north.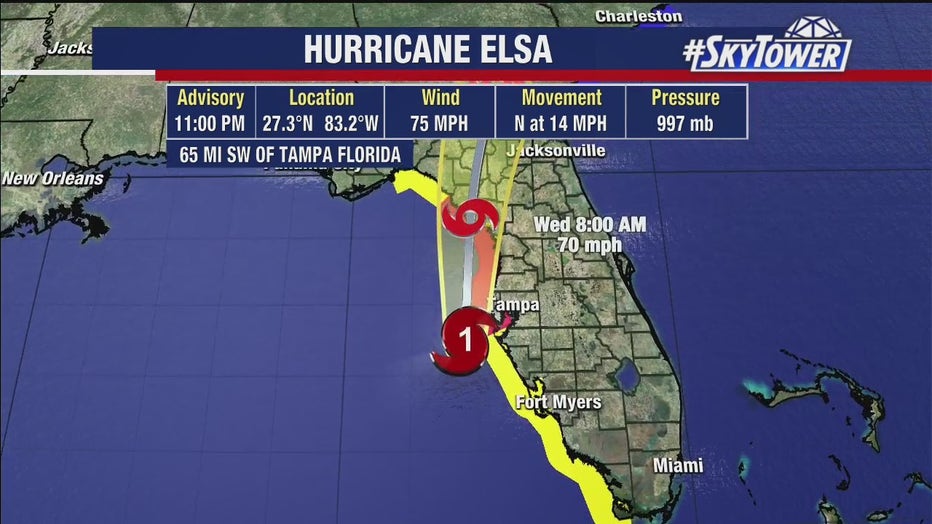 Airport and bridges
Tampa International Airport suspended operations beginning at 5 p.m. Tuesday. Air cargo operations will be suspended by 10 p.m. Officials said they plan to resume at 10 a.m. Wednesday, July 7, after assessing the property for storm damage, adding that the decision was made after the latest forecast included possible wind speeds of up to 65 to 70 mph for the area.
"All travelers should check with their airlines for the most up-to-date flight schedules over the next two to three days," according to a statement. "As a reminder, the Airport is not an emergency shelter for people or vehicles, as it is not designed or equipped with the supplies to handle an influx of evacuees."
State transportation officials typically shut down the Sunshine Skyway Bridge when winds reach 40 mph.
"If you take the Skyway to and from work, plan ahead because FDOT could be closing the bridge by the time you're driving home tonight," warned FOX 13's traffic reporter Mariah Harrison.
Other bridges across Tampa Bay could be closed if wind-driven waves lead to flooding, or if debris is blown into the travel lanes.
RELATED: Timeline of Hurricane Elsa's impacts on Tampa Bay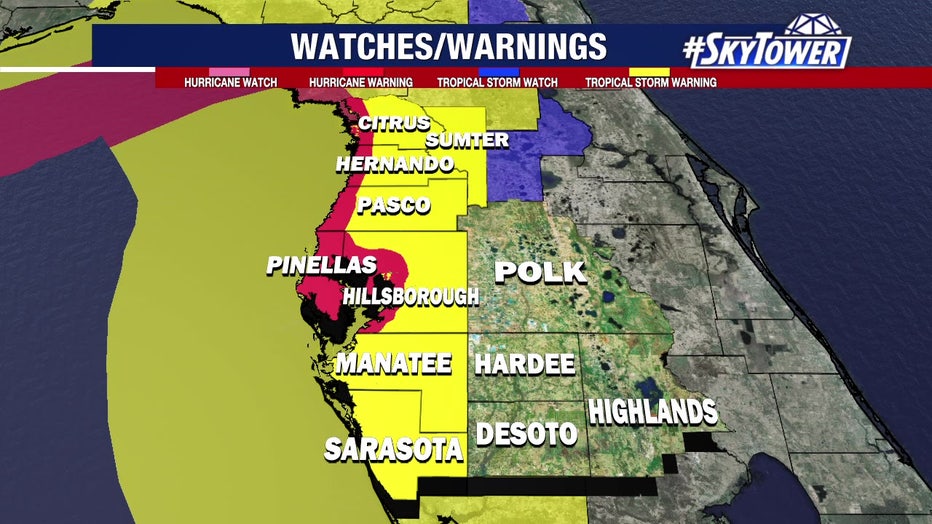 Barrier islands
Pinellas County was limiting access to the barrier islands – from Dunedin to Pass-A-Grille – starting at 6 p.m. Tuesday through 7 a.m. Wednesday. Sheriff Bob Gualtieri said deputies will be at all bridges that lead to the barrier islands. The only people allowed are those who are heading to work, a resident, or staying at a hotel or vacation rental.
"We're not going to allow people out there," he said Tuesday morning. "People going there to surf…or going out for not good reasons, we're not going to let them out there."
Pinellas County deputies and law enforcement officials will be along beaches with rescue vehicles, just in case. There will be reunification areas in the northern and southern portions of the county for those who had to be rescued.
"Either leave or shelter in place," the sheriff advised visitors. "We're not asking people to leave the hotels. If you are in one of the hotels and you're elevated up, you're fine. I'll call it a soft restricted entry."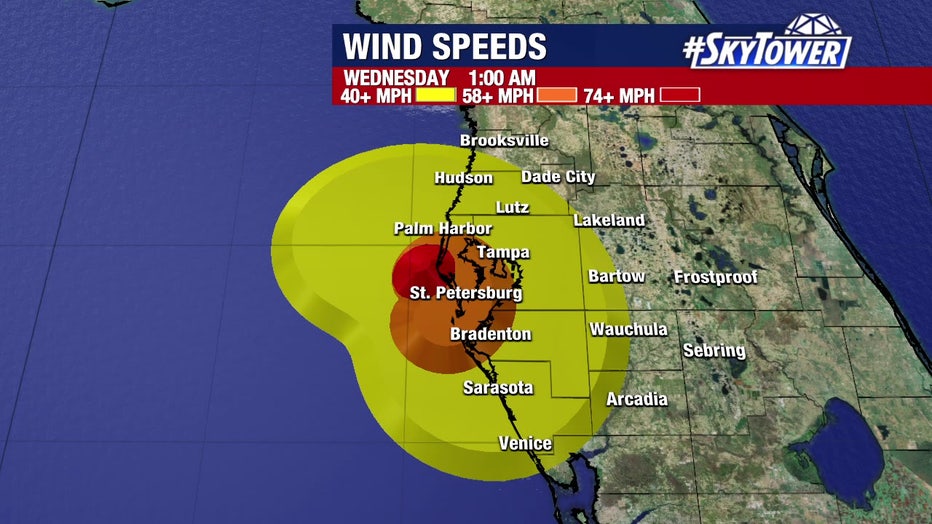 Elsa wind forecast for 1 a.m. Wednesday
Timeline
Elsa began moving away from Cuba during the overnight hours and impacts for the Tampa Bay area began Tuesday afternoon. Infrared satellite imagery showed Elsa as a lopsided storm, said FOX 13's meteorologist Tony Sadiku. The forecast track still parallels our coastline.
"For coastal locations, areas that dealt with impacts from Eta last year, you know what to expect with this, but of course the impacts could worsen if the storm passes a little bit closer to our coast, and of course, if the storm is a little bit stronger," he said.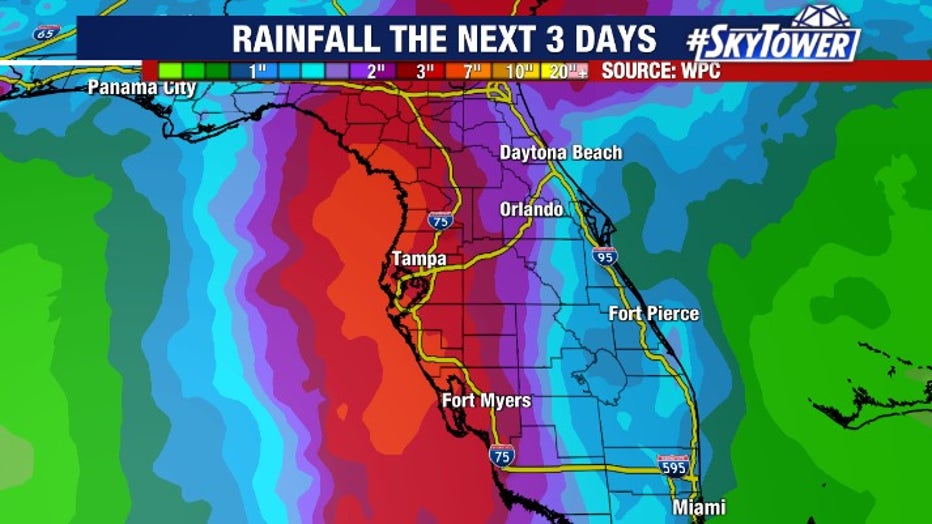 LINK: Track Hurricane Elsa on MyFoxHurricane.com
The Bay Area is projected to experience the following:
Heavy rain and isolated tornadoes on the east side – 3-5 inches of rain possible with some areas seeing upwards of 8 inches
30-40 mph sustained winds, 50-70+ mph gusts possibly near the coast
3-5 feet of storm surge beginning after midnight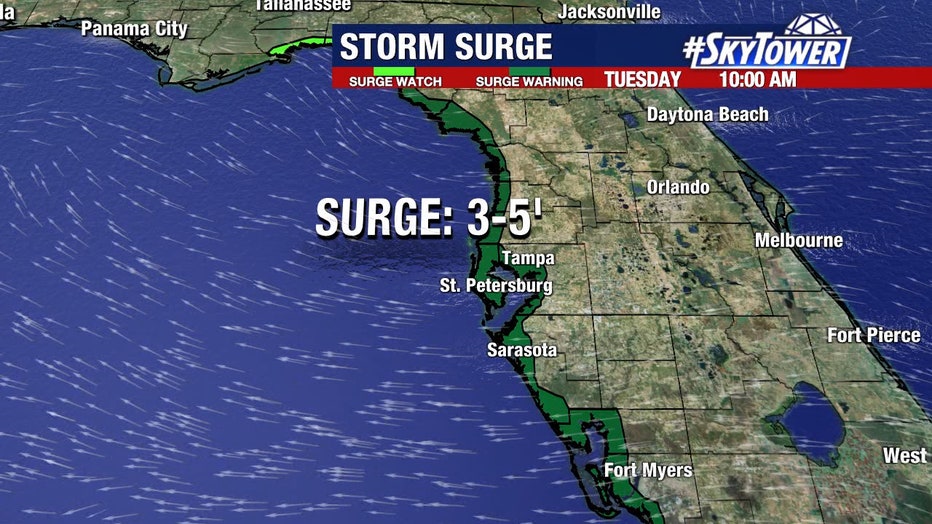 Midnight, parts of the Bay Area will see heavy rain at times. Around 3 a.m. Wednesday, wind gusts could be around hurricane force.
"As it moves to the north, notice that wind switching around more toward that south and eventually that southwesterly direction, driving some of that water right back up into the bay," Weber said.
On Wednesday afternoon and into the evening hours, conditions will begin to improve as Elsa moves further north.
"We'll get back to at least some sun and the winds starting to settle back down," Weber said.