Armed wrong-way driver who set vehicle on fire on I-75 puts deputies mental health training to the test
TAMPA, Fla. - Hillsborough County deputies credited their mental health crisis training Thursday after safely ending a situation in which a wrong-way driver was armed and set fire to her vehicle.
Deputies said the woman was driving the wrong way in the northbound lanes of Interstate 75 in Tampa when they made a traffic stop between Fletcher and Fowler avenues.
"The driver got out of the vehicle and clearly was undergoing a mental health crisis, making a lot of very aggressive statements towards deputies," said Amanda Granit, a sheriff's office spokesperson. "She had a knife in her hand and, at one point, she lit her vehicle on fire."
Granit said the situation could have had a violent ending, but didn't because the deputies' training kicked in. In 2018, Hillsborough Sheriff Chad Chronister began mandating 40 hours a year of crisis intervention training for his deputies.
The woman was taken into custody under the Baker Act and has not been arrested.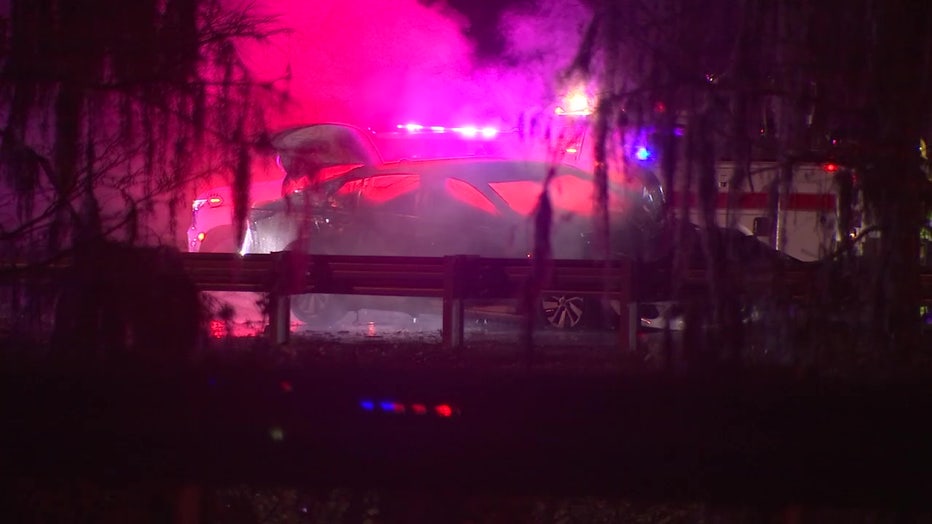 "Deputies and law enforcement officers don't know what they're experiencing when they respond to these calls or when they make a traffic stop," Granit said. "The chance of someone going through a mental health crisis and then responding to this need to help is a very real possibility in many of our calls. But our deputies are well-trained. They're ready to encounter that and ready to try to de-escalate these situations as they occur."
Crisis Center CEO Clara Reynolds said law enforcement must be able to identify people who are looking for help, not trouble.
"Because of COVID, the behavioral health pandemic has been so pervasive that right now. I think the statistic here locally is that 80 percent of calls to 9-1-1 have a behavioral health component to them," said Reynolds. "When you have to pull a gun on somebody, when you have to chase somebody, when you have to put bodily force that has an impact on that first responder."
Reynolds urged people to call 211 if they or someone they know is experiencing a mental health crisis.