Jay Leno motorcycle accident reportedly left him with multiple broken bones months after garage blaze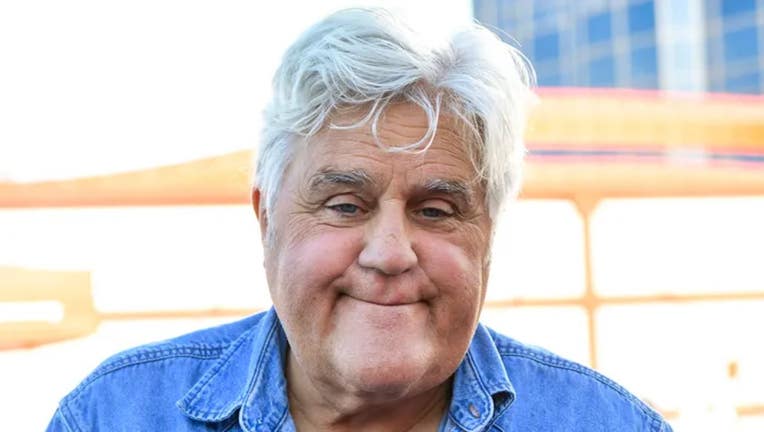 article
Months after Jay Leno suffered "serious burns" in a gasoline fire while working on one of his vehicles, the comedian said he broke several bones in a motorcycle accident.
Leno, 72, was "knocked off" a motorcycle Jan. 17 by a wire strung across a parking lot, breaking two ribs, two kneecaps and a collarbone, he told the Las Vegas Review Journal.
"But I'm OK! I'm working this weekend," he reassured. 
Leno said that he went out for a test drive on a 1940 Indian motorcycle and recognized the smell of a gas leak.
"I turned down a side street and cut through a parking lot, and unbeknownst to me, some guy had a wire strung across the parking lot but with no flag hanging from it," Leno told the Review Journal. 
JAY LENO RECEIVED HYPERBARIC CHAMBER TREATMENT AFTER HE SUFFERED 'SERIOUS BURNS' IN GASOLINE FIRE
"I didn't see it until it was too late. It just clothesline me and, boom, knocked me off the bike. The bike kept going, and you know how that works out."
Leno's motorcycle accident comes several months after he received multiple surgeries for third-degree burns on his face and hands from a fire in his Burbank garage. 
Last November, Leno took extreme measures to recover from his first traumatic accident, including hyperbaric chamber treatment – which is supposed to decrease swelling, increase blood flow with good oxygenation and decrease bacteria, according to Leno's doctor, Peter Grossman.
The talk show host confessed he did not speak out about his most recent motorcycle accident publicly, since the last vehicle mishap received a tremendous amount of media attention.
JAY LENO RELEASED FROM HOSPITAL AFTER SUFFERING BURN INJURIES
Despite suffering multiple broken bones, Leno has been in good spirits about his second accident and reportedly laughed off the intense situation.
"You know, after getting burned up, you get that one for free. After that, you're Harrison Ford, crashing airplanes. You just want to keep your head down," he reportedly said.
Although Leno's doctor previously advised he takes a "step back" from his career after his first accident, the comedian was eager to get back to work within weeks.
The former "Tonight Show" host is currently preparing for his comedy show in Las Vegas, which is scheduled for March 31.
Representatives for Leno did not immediately respond to Fox News Digital's request for comment.