Local studio offers affordable and accessible dance, music & theater classes for kids
BRANDON, Fla. - A 27-year-old woman has turned her passion for dancing into a way to help children. Sara Battaglia owns Dancing for a Difference in Brandon, and she and her students are doing just that.
"Our mission is to make dance and the arts available and affordable to the community," Battaglia said. "We welcome kids of all abilities, including those with disabilities. And then we also have a free program for children in foster care." 
WHAT'S RIGHT: Man retires after cleaning Treasure Island beaches for more than 20 years
Battaglia's love for dancing started when she was 8-years-old. She knew she wanted to be a professional dancer and started working with the Sarasota Ballet and School of Russian Ballet. Later, she danced at the University of South Florida.
But then she suffered an injury and could no longer stride toward her dream of becoming a professional. Instead, she opened hew own studio to give all children a chance to enjoy the benefits of dancing.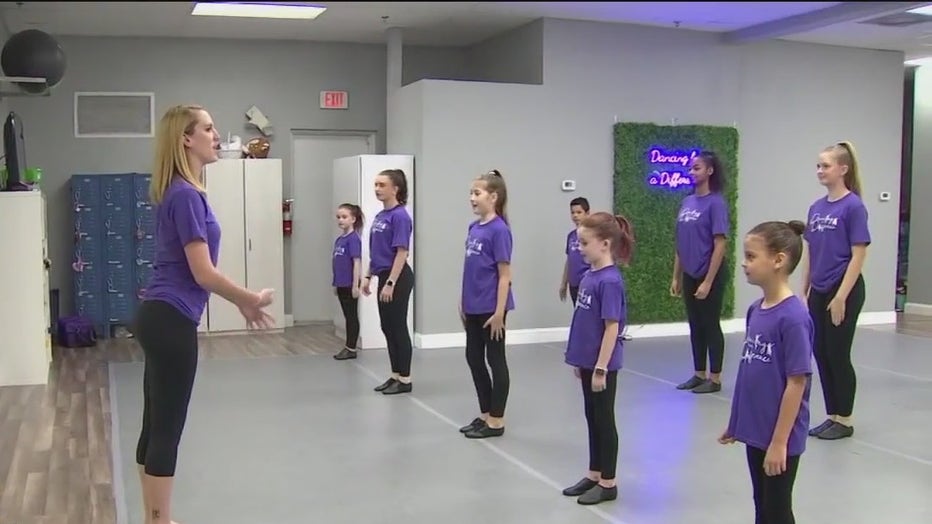 "It teaches them versatility and friendships that they'll have for their whole life. It teaches them to be quick thinkers, and integrating the kids with special needs into the class teaches them inclusion and acceptance of other people, which I think is really important," she said. 
MORE: South Hillsborough County women form group to help non-profits
Jocelyn Ivey is 14 and acts as a class ambassador, helping the younger children work on their skills.
"I'm a buddy, so I help this little boy. His name's Luca. He's blind, and I am his personal buddy," Jocelyn explained. 
Battaglia also offers music, voice, and musical theater classes. For more information, visit www.dancing4adifference.com.