MacDill AFB could be new stop for Cross Bay Ferry service to help employees commute to work
TAMPA, Fla. - Each day thousands of MacDill Air Force Base employees sit in traffic to get on base. For those making the drive from southern Hillsborough County, commuting around downtown Tampa and to the southernmost point on the peninsula can take 40-50 minutes or more each way. 
Hillsborough Commissioners are hoping to give them an alternative to making that drive. As they work to expand Cross Bay Ferry service, they're hoping to add a new South Bay commuter line.  
The new ferry service would take base employees from Gibsonton to MacDill in a fraction of the time it takes to drive there. 
"MacDill is our second-largest employer in Hillsborough County so when we're considering how important it is for our airmen and women that serve our country and provide us with national security and other benefits, we want to make sure that those individuals who work at MacDill can access the base safely and quickly," said Hillsborough County Commission Chair Kimberly Overman. 
For many working at MacDill, living on or close to base isn't an option. 
"There's not a lot of housing close to the base," said Overman. "Most of the new housing that's being built is in the south part of the county or in our surrounding counties."
Thousands of base employees trade a more affordable place to live for a much longer commute, but the new South Bay ferry route would cut down the trip from southern Hillsborough County significantly. Commissioner Overman estimates the ferry route from Gibsonton to the base would take just 15 minutes.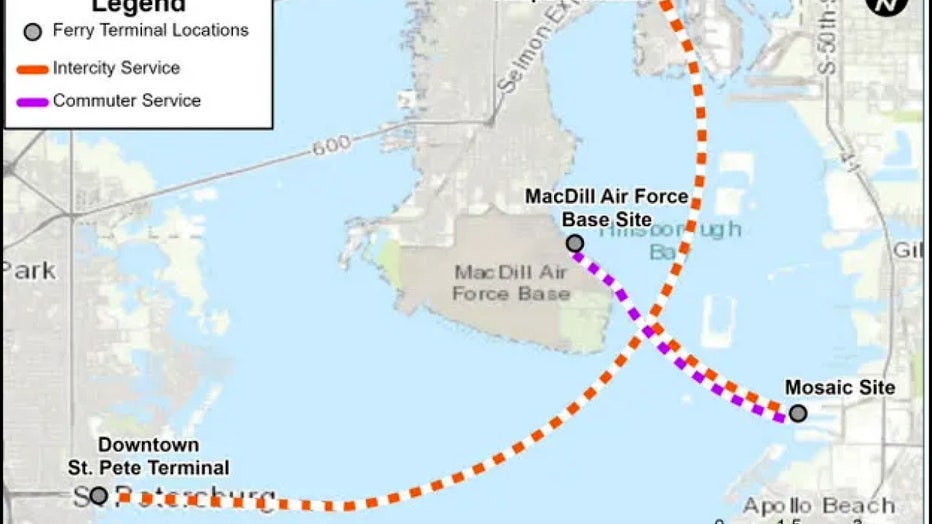 Map showing the proposed Cross Bay Ferry route that would include the MacDill Air Force Base.
According to the 1,100 MacDill Air Force Base employees – living in southern Hillsborough County – that were surveyed, they're excited about the idea. Of the 1,100, 94% of those employees commute by car, and 85% say that their drive is longer than 40 minutes. It doesn't come as a surprise that 90% said they would use the ferry, and it would make a big difference.
"They and their families are very excited about being able to ride the ferry to the commissary and back without having to drive all the way around the bay," said Commissioner Mariella Smith.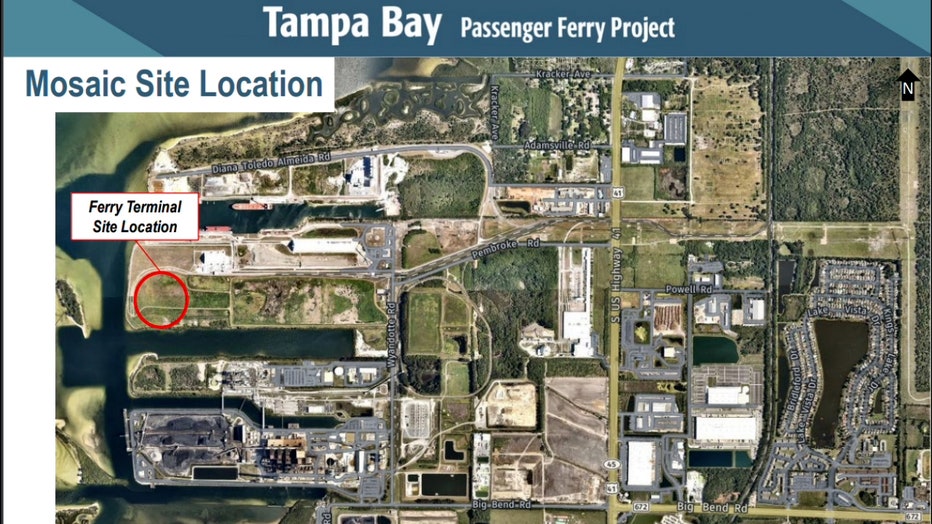 Map shows location of where officials are proposing a Gibsonton terminal for the Cross Bay Ferry.
The new ferry will operate during commuter hours, removing an estimated 2,000 cars from congested roadways during rush hour. In its off-hours, the second ferry will operate between Gibsonton, downtown St. Pete and downtown Tampa, offering an additional line to popular destinations. 
On Wednesday commissioners approved funds to help fast-track the new MacDill commuter line, which they hope to have up and running by June 2025.