Man arrested after high-speed chase, attempting to hit deputy with car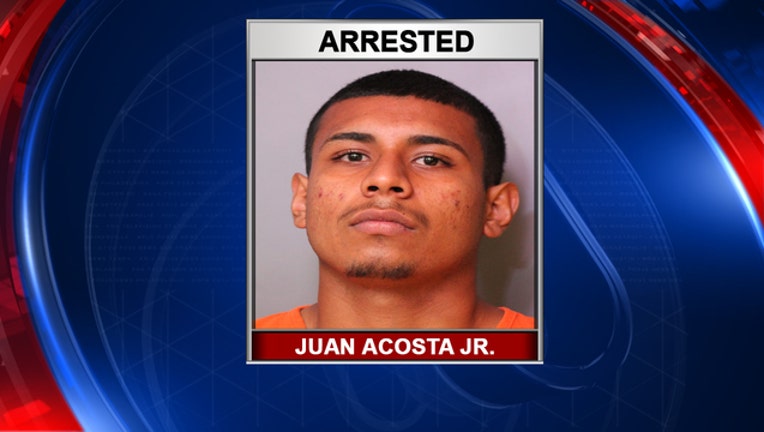 article
LAKELAND (FOX 13) - The Polk County Sheriff's Office arrested 19-year-old Juan Acosta Jr. Tuesday after he allegedly tried to hit a deputy with his car during a traffic stop and fled, leading deputies on a high-speed chase in Lakeland. 
Deputies pulled over Acosta, who was driving a 2006 Cadillac CTS, after seeing him run a red light on Wabash Avenue in Lakeland at 12:51 a.m.
When the deputy approached the car to ask for the Acosta's license and registration, deputies say he turned the steering wheel towards the deputy, accelerating in his direction in an attempt to hit him with the vehicle. 
The deputy said he was not hit by the car because he quickly moved out of the way. Acosta then fled the scene in the vehicle, beginning a high-speed pursuit. 
Deputies pursued the red Cadillac at speeds up to 80 miles per hour south on Wabash Avenue and then West on W. Highlands Street. 
According to PCSO, a bag of what appeared to be narcotics was thrown out of the window. A gun was also thrown out of the window during the chase. 
There were three passengers in the vehicle at the time of the incident.  
The pursuit came to an end at Old Tampa Highway and Gay Road. Everyone inside the car was removed from the vehicle at gun point.
The bag of narcotics and gun were later found by other deputies near the original incident location. 
The two backseat passengers told authorities that they were only getting a ride home from Acosta, and did not know why he would run from the cops. 
One passenger told investigators that he heard Acosta tell the front passenger to "find the gun, find the gun." The passenger, identified as Yahkeem Ali Walker, then threw the firearm out of the window.