Miniature therapy horse brings hugs, hope and healing to Tampa General Hospital
TAMPA, Fla. - A woman who credits horses for helping her heal from childhood trauma is spreading some sweetness at a Tampa hospital.
The normally bustling corridors at Tampa General Hospital come to a complete stop when Honey is in the hallway.
Honey is a miniature therapy horse that brings hugs, hope and happiness to the facility's patients and staff.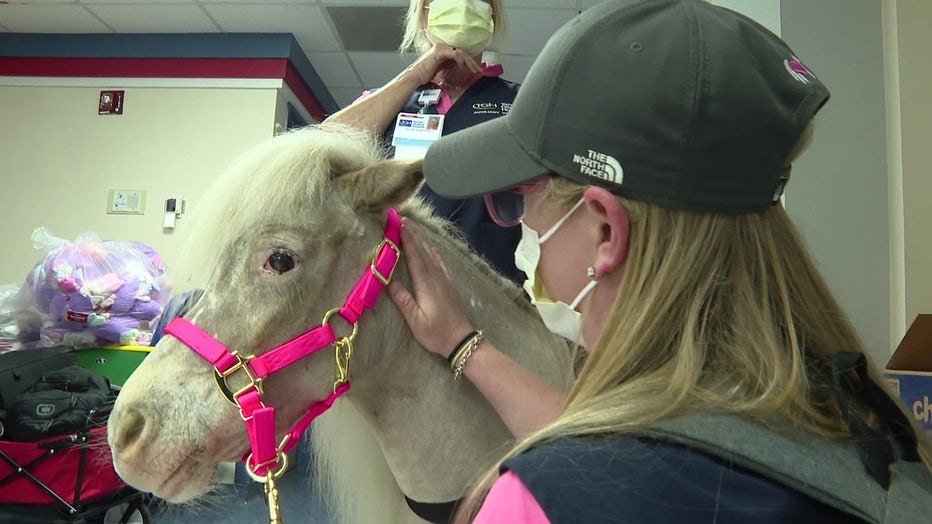 Honey offers patients and staff a moment of stress relief. 
"It almost has a ripple effect through the hospital. It ripples through the hallways. Everyone that is visiting finds some kind of happiness, joy or comfort from the therapy horses. Best way to put it... we make the hallways happy. It almost gives the hospital a hug and brings it together," shared Mary Rose Gullet with Honey's Mini Therapy Adventures.
Gullet started her organization with just Honey. Now, she has ten horses.
READ: 'It really reduces stress': Non-profit uses miniature horse to give back to others
"Every now and then you'll hear someone just absolutely squeal, 'Oh my God, there is a horse in a hospital,'" she exclaimed.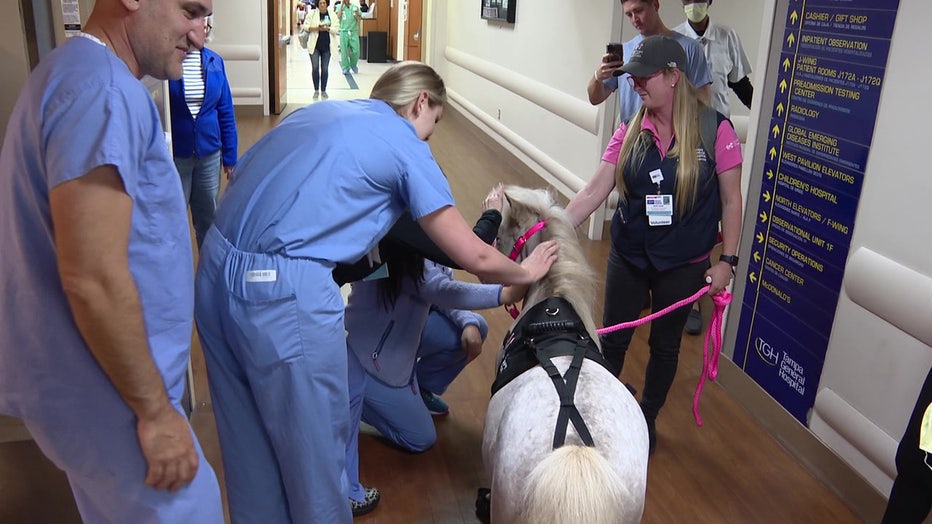 Honey often stops traffic in the hallways of TGH. 
Gullet's horses are also very fashionable and add something a little extra flare to their horseshoes.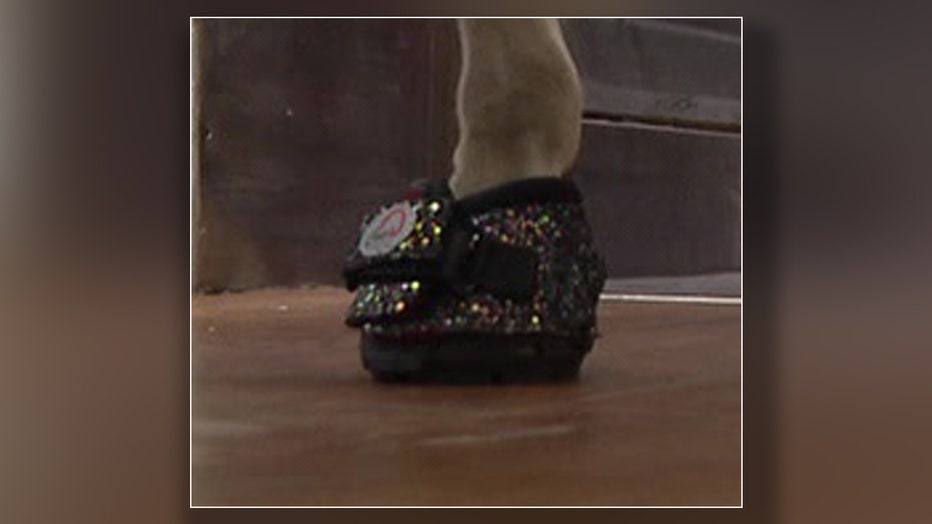 Honey wears a variety of sparkly shoes. 
"I think everybody's favorite part after they get past the fact that there is a tiny horse in the hospital," Gullet stated. "They truthfully can't get over how adorable their shoes are. Their shoes are the most important piece of gear that they wear. They're called Cavallo Hoof Boots. They are the most adorable things ever. You can hear them coming down the hallway. We have pink ones, glittery ones, blue ones. It really just adds that extra magical touch to an already incredible thing."
READ: Small horses can provide big boost to patients of all ages
Gullet brings the horses to hospitals, colleges, nursing homes and anywhere where a calming presence is needed.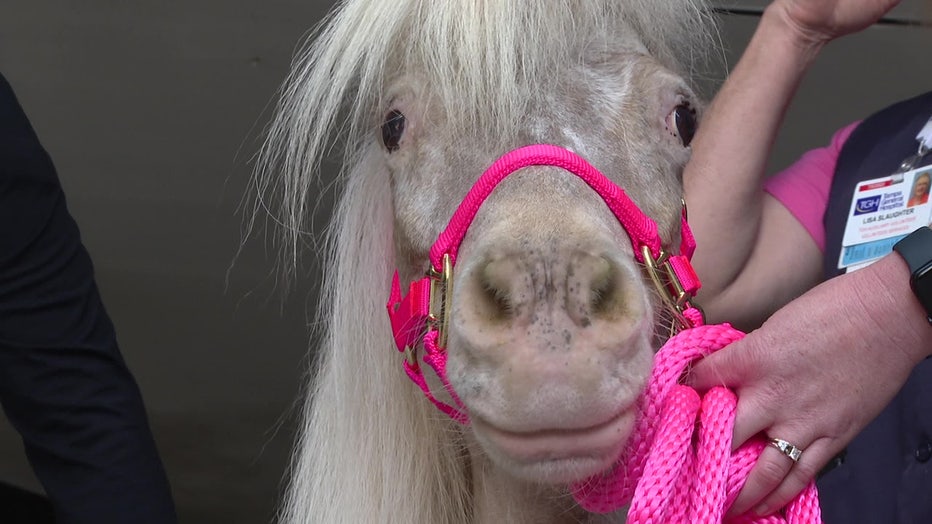 "They communicate in ways that not all humans know how to do," she explained. "They offer a safe space without judgment."
READ: Brooksville center combines physical therapy, horses to help those with disabilities
Gullet says the animals really helped her deal with tough times as a child.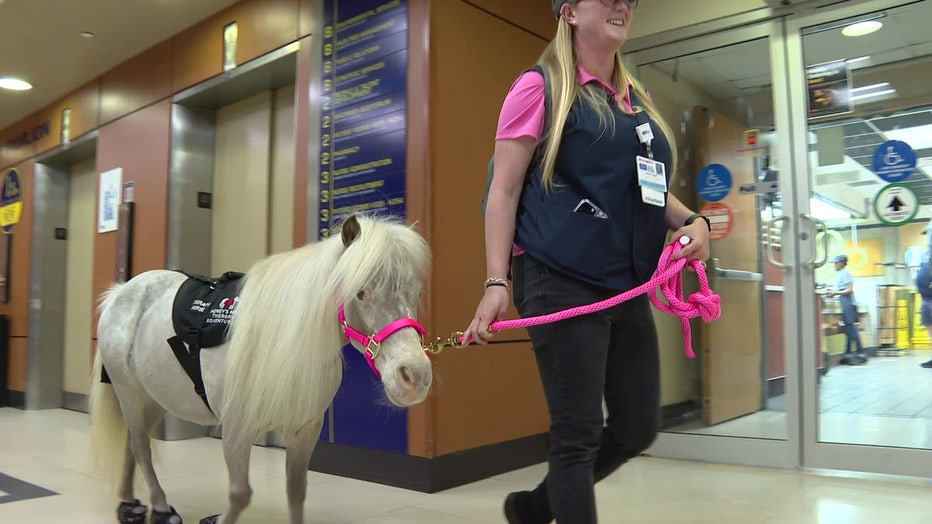 Gullet created her program with just Honey and now has 10 horses. 
"They helped me through multiple childhood traumas and gave me a safe place to heal. Horses helped me heal in ways I cannot explain and being able to give that to somebody else who might not have ever experienced being in the presence of a horse or used to have a horse and doesn't have a horse anymore," she said. "I feel like I can give that to people."
Gullet is working on a degree in social work. She wants to become a therapist with therapy horses and she hopes to catch on at TGH.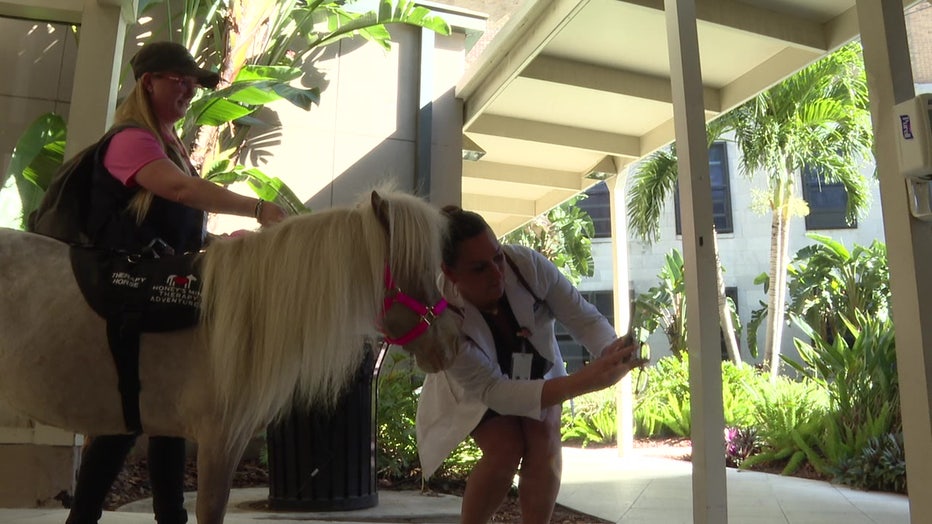 A TGH team member takes a selfie with Honey outside the hospital. 
"Finding something that I truthfully love and enjoy doing every single day is the biggest privilege of my life. I'm super thankful for it, I'm thankful I get to share it with other people which I think is the coolest aspect to it. It doesn't just benefit me, it benefits everyone around me and so... it's just incredible."
LINK: Click here for more information on Honey's Mini Therapy Adventures.