Missing 2-year-old found safe after Amber Alert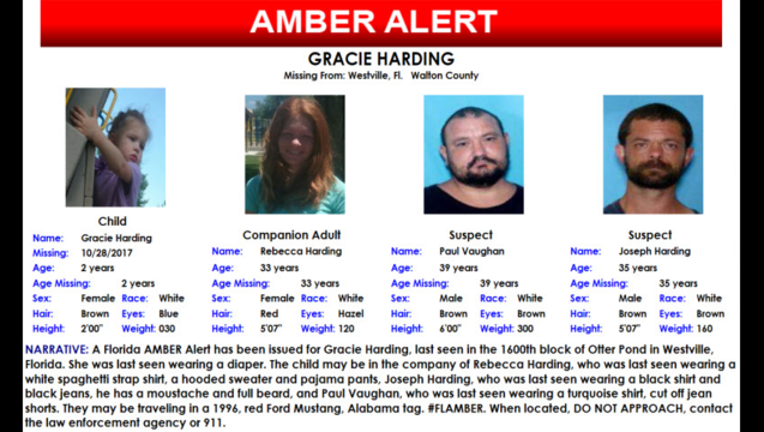 article
WESTVILLE, FL (FOX 13) - UPDATE: Gracie Harding has been found unharmed and deputies say the case is resolved.
*****
Authorities have issued an amber alert for a 2-year-old girl missing from Westville, Florida.
Gracie Harding, 2, was last seen on Otter Pond Road wearing a diaper.
Police are also searching for 33-year-old Rebecca Harding, who is listed as a companion adult.
Two suspects, 35-year-old Joseph Harding and 39-year-old Paul Vaughan, are also being sought.
Joseph Harding was last seen wearing a black shirt and black jeans. He has facial hair, is 5 feet 7 inches tall and weighs 160 pounds.
Paul Vaughan was last seen wearing a turquoise shirt and jean shorts. Vaughan is 6 feet tall and weighs 300 pounds.
They may be traveling in a 1996 red or orange Ford Mustang with an Alabama tag. Anyone with information on their whereabouts should call 911.