More women joining medical school programs than ever before, new data shows
ST. PETERSBURG, Fla. - New data shows more women are joining medical school programs than ever before, and some Tampa Bay area doctors hope to inspire the next generation to join medicine.
Dr. Stacey Stone, a neonatologist at Johns Hopkins All Children's Hospital, specializes in congenital diaphragmatic hernia, which is a rare birth defect that affects a baby's organs. 
"When a baby is born, they have both the problems of their intestines up in their chest and a lung that may be, typically our most severe, nine percent the size of a normal baby's lung," said Stone.
READ: Moffitt Cancer Center sees increase in virtual visits during pandemic
Stone is among the 53% of women physicians working at the St. Petersburg hospital, a number worth touting on National Women Physicians Day, which was Friday.
"I actually grew up working in this hospital and absolutely loving neonatology and wanting nothing more than to be a neonatologist," said Stone, who developed her love of medicine walking these same halls with her uncle many years ago. "I was just so fortunate when I was about in seventh grade, we met for lunch one day, and he took me on a tour of the hospital. And I saw the babies in the neo-natal unit."
Then she knew she wanted to help them. The American Medical Association said women make up roughly 72% of pediatrics, but that shifts dramatically for other specialties. Studies show about 20% of surgeons are women.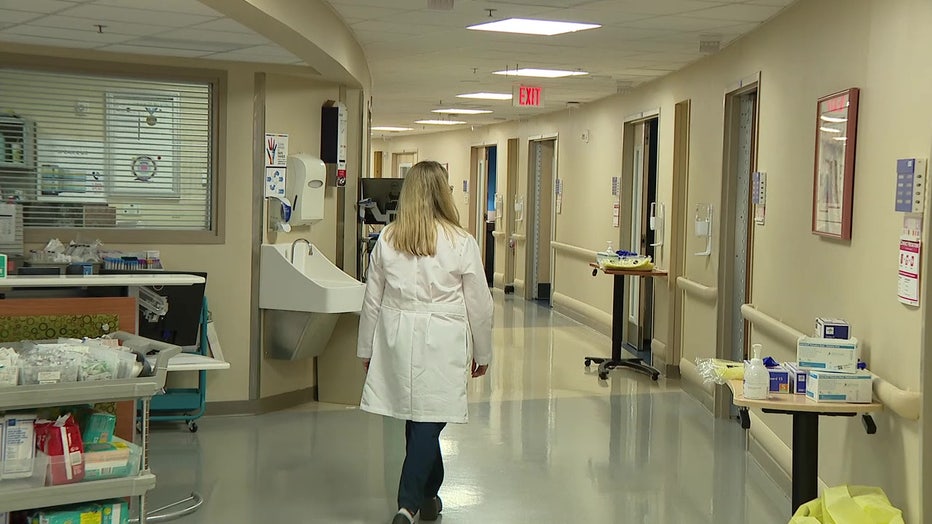 "I'm not an expert on this matter, but I think historically there hasn't been as many females in the field of surgery or orthopedics and things like that," she said. "I think now that women are being encouraged to do anything."
MORE: Crisis Center of Tampa Bay creates apprenticeship program to address EMT shortage
Florida colleges and universities added more healthcare related programs during the pandemic, working to recruit to help fill gaps in medical field and offset a shortage of workers.
"There are those colleges that want to catch people early, and there are so many opportunities for internships and summer programs," said Stone.
But that curiosity starts early. Dr. Stone spoke at one of her children's Career Day events, so she hopes more young girls and all kids soak up all possibilities. 
"They think of the typical you're a doctor, you work in an office or maybe an emergency room, but they don't know the vast many different areas and different ways you can be a physician or a healthcare provider," said Stone. "I think really just getting out there or having kids come to hospitals and meet with doctors or having doctors go to them and explain all the things that you can do with medicine."