Mother reunited with soldier son on flight to Phoenix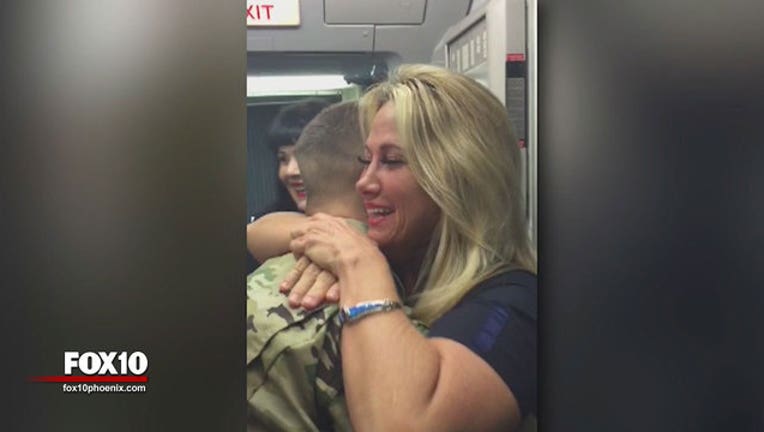 article
PHOENIX (KSAZ) - When 18-year-old Army Private Cody Middleton boarded an American Airlines flight in Philadelphia last week, headed home to Arizona after six months of basic training, he had no idea he was in for the surprise of his life.
He had just gotten on board when he heard a flight attendant call him up to the front of the plane.
"I was like, oh no, did I forget something? Like, what happened?"
What happened was something his mom Shelli, an American Airlines flight attendant, had been planning for days.   She was about to surprise him, right there, on the plane.
"Thank you for your service," a flight attendant can be heard telling Cody in video shared by the family.  "I heard you've been gone for six months. Who have you missed the most?"
"My mom," Cody replied, just before she surprised him.
The emotional reunion was caught on camera as passengers on the plane burst into applause.
Shelli said it was hard keeping the surprise a secret.  She even told Cody she was working a flight in Hawaii so he wouldn't get suspicious.
"So when the moment came, I was nervous, but I couldn't wait to see him. I was emotional. It took my breath away, just seeing him," she recalled.
Cody is spending Thanksgiving with his family, and then on Sunday he'll head off to Kentucky for more training with the 101st Airborne Division.