Mother's Post About Flight Attendant Goes Viral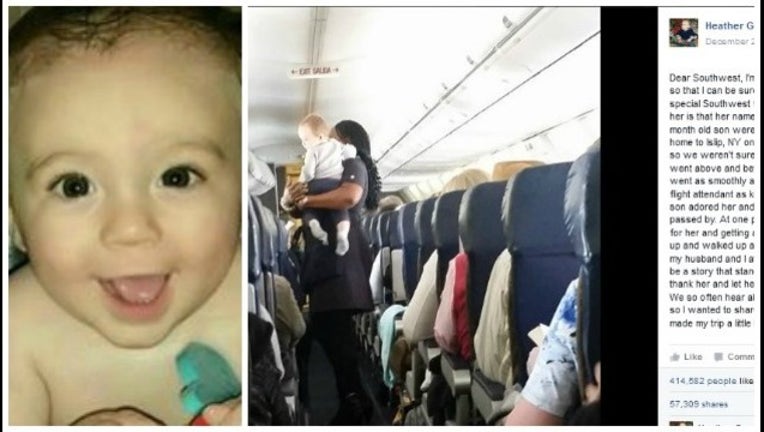 article
Traveling around the holidays can be stressful, especially with a child.
A mother took to Facebook on December 29th to thank a Southwest Airline staffers who went above and beyond to help her out.
Her post was liked by over 414,000 people on Facebook and has 57,298 shares.
Dear Southwest, I'm hoping you can share this post so that I can be sure that it finds its way to a very special Southwest flight attendant. All I know about her is that her name is Anisse. My husband and 9 month old son were flying from Fort Lauderdale back home to Islip, NY on 12/28. This was my son's first trip so we weren't sure how things would go. Anisse went above and beyond to make sure that the trip went as smoothly as possible. I have NEVER had a flight attendant as kind and as helpful as she was. My son adored her and kept looking for her as she passed by. At one point, she saw that he was looking for her and getting ancy so she came and picked him up and walked up and down the aisle with him while my husband and I ate our lunch. Although this may not be a story that stands out from the rest, I wanted to thank her and let her know how appreciated she is. We so often hear about the negative things going on so I wanted to share this story of a someone who made my trip a little brighter. Please help this get to her!
After the post went viral, Gooch posted an update.
"Can't believe my post to Southwest reached so many people, so unexpected and crazy!"